New York, New York, big city of dreams, but not everything here is what it seems. The world is filled with cities we've never heard of, but no matter the state, city, or country you reside, you've probably heard of New York City. It is known as the Big Apple and the city that never sleeps, and it's fueled by a bustling nightlife driven by drugs and alcohol. 
Unfortunately, alcohol is prevalent in the city. Whether you've had a long day on Wall Street and you need to blow off steam, or you're struggling with alcohol use disorder (AUD) and need it to survive, it's hard to miss its grasp. The melting pot of cultures throughout the city offers an array of restaurants and bars, most of which include drinking. 
Alcohol abuse is common nationwide, but in the city eight million, it has become an essential topic of concern. The National Institute of Health (NIH) estimates that 15 percent of New Yorkers drink excessively, which takes a 185 billion dollar toll on the United States. The highest concentration of drinkers is in Manhattan (22%). 
One of the main concerns relating to drinking is that it's socially accepted. Unlike other drugs, it's common for someone to drink too much and be shrugged off the following day. However, casually drinking can eventually lead to addiction, which will take control of the individual's life and require alcohol rehab to overcome. 
The National Institute on Alcohol Abuse and Alcoholism released statistics that describe 88,000 people die due to alcohol-related causes each year in the United States. The number translates to one in 10 deaths of working-age adults. In addition, it causes a 249 billion dollar toll on the economy due to missed work and injuries. 
Binge drinking, as defined by the U.S. Centers for Disease Control and Prevention (CDC), is consuming five or more drinks for men or four or more drinks for women in the span of two hours. The average alcohol consumption for someone 14 and up consists of two drinks. If someone continues to drink at this rate, it can be dangerous to overcome alone. 
New York City Alcohol Rehab Statistics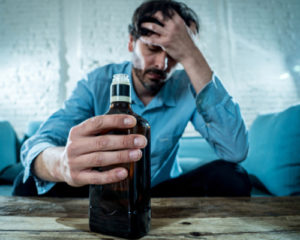 New York City and drinking are synonymous due to its 24-hour culture, and the statistics back that up. Statistics released by the United Hospital Fund (UHF) noted that 24 percent of hospitalizations in the Bronx are alcohol-related. In Brooklyn, 30 percent of hospital admissions were caused by alcohol, while another 21 percent of these hospitalizations stem from alcohol in Manhattan. Queens chipped in with another 19 percent, while Staten Island had six percent. 
As of 2015, respondents provided information to the American Community Survey by telephone. In 2015, 56.7 percent said they were current drinkers, while another 17.2 percent admitted to binge drinking. Another 5.4 percent said they were heavy drinkers. These numbers shouldn't come as much of a surprise because of the pressure to survive in bustling New York City. Long hours and stress are precursors to alcohol addiction. According to the New York Department of Health, 1.9 million New Yorkers have a substance abuse problem. Due to the danger alcohol withdrawal presents, alcohol rehab is necessary to overcome addiction.
Benefits of Alcohol Rehab in New York City
Alcohol use is common throughout the United States, and it is considered the third leading preventable cause of death in the country behind tobacco and physical inactivity. Alcohol use disorders become an issue when it interferes with responsibilities, and the individual loses control of how much they drink.
Fortunately, it doesn't have to last forever. If you're ready to get help for a spiraling alcohol problem, you are one click or phone call away. Due to the severity of issues caused by drinking, the benefits of alcohol rehab are immeasurable. Not only will it help you mend relationships, but it could be the reason you stay alive.