Located on the New Hampshire border about 30 miles north of Boston in Essex County, Massachusetts, the city of Haverhill is making headlines for being one of the top cities in the state for opioid overdose deaths.
Drug Use In Haverhill
As of 2014, Impact Essex County reports that heroin and other opioids are the primary drugs of abuse for addiction treatment admissions in Essex County.
Heroin has been a rising threat over the past decade due to closer monitoring and control of prescription opioids, although drugs like OxyContin (oxycodone) are still commonly misused in Haverhill as well.
Use of fentanyl is another rising trend in Haverhill. The high potency of the drug makes it a major cause for concern. 
Illegal drug use in Essex County is higher than national averages. Between 2014 and 2016, approximately 19 percent of people reported past-month illegal drug use compared to a national average of 16 percent. Around 17 percent of Essex County residents cited past-month marijuana use, as opposed to a national average of 14 percent, and two percent reported past-month cocaine use, which was the same as the national average.
Haverhill youth use substances at rates higher than the rest of the country, The Eagle-Tribune publishes.
In 2015, according to a survey conducted by Haverhill High School students, alcohol and marijuana use increased over the 2013 survey. About five percent reported trying heroin, and eight percent admitted to OxyContin use.
Haverhill is working to overturn the drug use and opioid overdose public health crisis in the city. There are several local task forces, measures, and treatment resources working to prevent drug abuse and get help for those struggling with addiction.
Heroin Use In Haverhill
Heroin is an illegal opiate drug that is commonly abused in white powder form through injection or smoking.
Heroin still wreaks the most havoc in urban and low-income neighborhoods, but it is spreading into more suburban and affluent areas in New England and beyond. The  U.S. Centers for Disease Control and Prevention (CDC) reports that heroin use is up in almost all demographics across the board, especially in groups of people who traditionally did not show much abuse.
As prescription opioids have become harder to obtain, prescribers are more hesitant to dole them out. They are more tightly controlled through local government agencies like the Massachusetts Prescription Awareness Tool (MassPAT), which is the state's prescription drug monitoring program. Individuals battling opioid addiction are turning to drugs like heroin as a result.
Fentanyl Use
Another issue cropping up in Haverhill and around the United States is related to synthetic opioids such as fentanyl.
Fentanyl can be produced in a lab. It is, therefore, cheaper and easier to make and get than heroin. It is also much more potent and deadly in much smaller amounts.
Fentanyl is being used to cut and stretch other opioids like heroin and counterfeit prescription drugs. It is also showing up in the cocaine supply, often without the user's knowledge.
The Haverhill Gazette publishes that in 2017, fentanyl was present in close to 80 percent of all drug overdose deaths in Massachusetts. In a little over two years, from early 2016 to early 2018, first responders in Haverhill responded to 514 drug overdoses and 53 drug overdose-related fatalities.
The Eagle-Tribune publishes the following statistics on the Haverhill opioid public health crisis:
There were 302 opioid overdoses in Haverhill in 2016.
In 2015, Haverhill ranked 10th for opioid overdoses in Massachusetts communities with at least 10,000 residents.
Approximately 66 percent of opioid overdoses in Haverhill occurred in downtown neighborhoods, including the Acre and Mount Washington neighborhoods.
In 2015, the rate of opioid overdose deaths in Haverhill was 43.7 fatalities per 100,000 residents, which was more than double the state rate of 20.7 deaths per 100,000 people.
According to the Massachusetts Department of Public Health, there were 28 fatal opioid overdoses in Haverhill in 2017.
Addressing The Local Opioid Epidemic
The city of Haverhill instituted the Haverhill Opioid Prevention and Education (HOPE) task force in an effort to help the public understand the impact and effects of opioid abuse in the area.
Middle schools are also assigned a health teacher to educate students on the hazards of drug misuse and opioid drugs as well as to monitor behavioral health and mental health issues.
The STRONG (Screen, Triage, Referral, Ongoing support, Navigation, and Growth) program is available to all students of Haverhill public schools, between the grades of 6 and 12, who struggle with substance abuse and/or addiction. This counseling program can provide students with treatment resources and support.
The city of Haverhill was also been granted $250,000 in public safety grants in 2018, the Haverhill Gazette reports. These can be used to increase local opioid overdose prevention efforts.
The city of Haverhill also supports the "No Wrong Door Policy" that helps individuals to get into treatment programs immediately regardless of how they came into contact with the system.
Addiction treatment and recovery support are important measures for minimizing opioid overdoses and helping to improve communities. The Haverhill chapter of Learn to Cope provides peer support for families and loved ones impacted by addiction with weekly local meetings.
Local CVS pharmacies provide prescription drug drop-off boxes, Mass Live publishes. These allow residents to safely dispose of unused medications to prevent misuse.
How and Where to Get Help For Addiction in Haverhill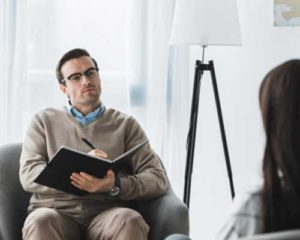 In the state of Massachusetts, statewide substance abuse and addiction treatment are managed through the Bureau of Substance Addiction Services (BSAS), which oversees community-based providers.
To find treatment services and providers in Haverhill or Massachusetts in general, residents can use the Massachusetts Substance Use Helpline to find local treatment options, information, and referrals for treatment services.
The Massachusetts Behavioral Health Partnership (MBHP) can connect MassHealth members with a local treatment provider through its vast network, which includes over 1,200 individual practitioners, clinics, and inpatient programs. MassHealth is the Massachusetts Medicaid program that provides health care and insurance coverage for low-income and underserved populations.
The Massachusetts Behavioral Health Access (MABHA) hosts a tool that connects residents with substance abuse treatment services by showing which providers have openings in real time.
The Behavioral Health Treatment Services Locator Tool can also help individuals to find local addiction treatment options and providers in Haverhill through the Substance Abuse and Mental Health Service Administration's (SAMHSA) national helpline and online resource.