Opioid abuse, including heroin, is the greatest substance misuse problem facing Atlantic City today. 
In a city that is one of the greatest tourist attractions in the United States, rising rates of drug overdose and drug-related crimes are creating a serious public health concern.
According to local news sources, heroin use, in particular, is driving up rates of opioid abuse cases in cities across New Jersey. 
Atlantic City ranked number three on the list of communities with the largest number of heroin treatment cases in 2015.
The drug epidemic in Atlantic City has been getting worse for years, reports show. In 2014, there were 557 cases of heroin abuse in Atlantic City, based on the number of people seeking treatment for heroin addiction. In 2015, the number of heroin abuse cases increased by 31 percent to 733 cases.
Drug Use In Atlantic County
Each year, the New Jersey Substance Abuse Monitoring System (NJ-SAMS) collects data on substance abuse treatment admissions made throughout the state.
For Atlantic County residents in 2017, heroin was by far the most commonly abused drug that led people into treatment. Substance abuse treatment admissions for Atlantic County residents that year included:
Heroin at 59 percent of admissions
Alcohol at 17 percent of admissions
Marijuana at 10 percent of admissions
Opiates other than heroin at 7 percent of admissions
Cocaine at 4 percent of admissions
Other drugs at 3 percent of admissions
Of the people who received addiction treatment services in 2017 in Atlantic County, 40 percent benefited from medication-assisted therapy. Thirty percent of people used methadone, while 10 percent benefited from the use of Suboxone.
Medication-assisted treatment (MAT) uses FDA-approved medications along with behavioral therapy to provide a holistic approach to substance abuse treatment. Methadone, buprenorphine, and naltrexone are used specifically for the treatment of opioid use disorders,  in which many people across Atlantic County struggle.
Intravenous Drug Use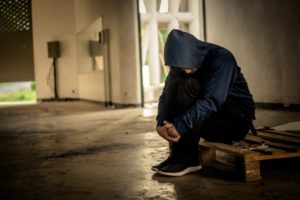 Of the people who were admitted for treatment in 2017, 49 percent were intravenous drug users.
Intravenous drug use puts people at increased risks for many health problems. The risk of contracting or transmitting diseases like HIV or hepatitis B or C is high among people who share needles or use unsterilized injection equipment. According to the  U.S. Centers for Disease Control and Prevention (CDC), approximately one in ten new HIV cases in the United States is due to injection drug use.
Besides the risk of getting HIV or hepatitis through shared needles, the risk of overdose increases significantly with the intravenous administration of drugs. Injecting drugs is the quickest and most powerful way to feel most effects, which means an overdose can happen very quickly.
Additional risks of injection drug use include skin sores, abscesses, collapsed veins, and heart infections. 
Substance Misuse Throughout New Jersey
The opioid epidemic has not only struck residents of Atlantic City. It has impacted people living throughout the entire state of New Jersey.
Overdose death rates and the associated impacts on public health continue to rise. According to the National Institute on Drug Abuse (NIDA), the rate of opioid-related overdose deaths in New Jersey was 16 deaths per 100,000 people in 2016, which equaled a total of 1,409 fatal opioid overdoses. 
Prescription opioids, synthetic opioids, and heroin all contribute to the high rate of overdose deaths, but the most significant increase recently has been seen with heroin use. In 2010, heroin use caused 97 fatal overdoses. By 2016, this number increased to 850. 
Synthetic opioids have also caused a steep rise in fatal overdose, increasing from 35 in 2010 to 689 in 2016. 
When the CDC first started tracking opioid overdose data throughout the country in 1999, the rate of opioid overdose deaths in New Jersey was consistently higher than the national average. By 2004, however, fatal overdoses in New Jersey dipped below the national average and stayed below it until just recently.
A spike in synthetic drug use, primarily fentanyl, has caused the rate of fatal overdoses in New Jersey to jump above the national average of 13.3 deaths per 100,000 people.
State Efforts to Address the Opioid Epidemic
In response to the opioid overdose epidemic in New Jersey, health care providers adapted their prescribing practices and have made an effort to reduce the number of opioid prescriptions they write.
In 2015, 55 opioid prescriptions were written per 100 people in New Jersey compared to the national average of 70 prescriptions per 100 people across the country. 
Although health care providers in New Jersey are helping to reduce the number of prescription opioids available to the public, opioid overdoses continue to increase because people have turned to illicit and synthetic opioids instead. Heroin was the leading cause of fatal opioid overdoses in 2016, followed by synthetic opioids, and then prescription opioids.
Atlantic City's Response to the Opioid Epidemic
To slow down and reverse the increasing trend of fatal opioid overdoses in Atlantic City, community organizations are taking the initiative to bring lifesaving efforts to people at risk for an opioid overdose.
The AtlantiCare Foundation has partnered with local law enforcement by donating money to equip all patrol officers with naloxone, an antidote to an opioid overdose.
Atlantic City is faced with a public health crisis as it relates to opioid addiction and drug-related deaths. Naloxone does not treat addiction, but it can save lives and give people the opportunity to receive appropriate addiction treatment, explains Atlantic County Prosecutor Damon Tyner.
By equipping police officers with naloxone and training them on how to administer it in an emergency, law enforcement officers throughout Atlantic County can save the lives of people who are could accidentally overdose on opioids. 
The Partnership for a Drug-Free New Jersey reflects the same community partnership efforts as the AtlantiCare Foundation. Through the partnership, organizations across the state are teaming up with the Governor's Council on Alcoholism and Drug Abuse and the New Jersey Department of Human Services to bring drug education to hospitals, workplaces, doctors' offices, schools, communities, and directly into people's homes.
The Partnership for a Drug-Free New Jersey was established in 1992 with the following goals:
Form a substance abuse prevention alliance throughout the state
Localize and strengthen drug initiatives
Provide drug-free assistance and parent education conferences
Offer all programs free of charge to residents of New Jersey
Substance Abuse Treatment In Atlantic City
According to information provided by the state's Division of Mental Health & Addiction Services, Atlantic County (in which Atlantic City lies) primarily provides treatment services to help people struggling with substance use disorders related to the following:
Heroin and other opiates
Cocaine/crack
Marijuana
Other drugs
In 2011, 52 percent of treatment admission were for heroin and other opiates; 27 percent of admissions were for alcohol; 13 percent of admissions were for marijuana; seven percent of admissions were for cocaine or crack; three percent of admissions were for misuse of other drugs. These numbers reflect admission data based on the primary substance of abuse; many people likely sought treatment for more than one substance at a time. 
When compared to the rest of New Jersey, Atlantic County has relatively low rates of alcohol abuse, but much higher rates of heroin and other opiate abuse. Substance abuse admissions for cocaine/crack are similar to the state average, while admissions for marijuana use disorder and disorders related to other drug use are below the state average. 
According to the NJ-SAMS 2017 Atlantic County report, 62 percent of Atlantic County residents who received treatment in 2017 were able to receive it within the county.
The Most Commonly Used Types of Treatment Programs Include:
Intensive outpatient treatment at 27 percent
Opioid maintenance outpatient programs at 19 percent
Outpatient care at 17 percent
Residential detox at 14 percent
Long-term residential treatment at 10 percent
Additional Treatment Services Available Throughout Atlantic County Include:
Partial hospitalization
Halfway houses
Detox hospitals
Outpatient, non-methadone detox options
Early intervention services
Atlantic City Addiction Treatment Centers
With a large population and high rates of drug abuse, there is a significant need for addiction treatment centers in and around Atlantic City. Fortunately, there are many options available. Whether you need assistance from an opioid maintenance program, detox facility, residential program, or halfway house, you can find the right level of treatment to meet your requirements. 
You can find both public and private options throughout Atlantic City, New Jersey, and across the country. No matter what your goals and needs are for treatment, there are programs waiting to help you achieve sobriety and regain control of your life.