Household and chemical products such as solvents, spray paint, glue, and nail polish remover are sometimes used as drugs — this is a process known as "huffing." Users inhale the vapors of these products to achieve a high. Most people who abuse inhalants are adolescents or younger—usually because they are too young to buy cigarettes or alcohol or they don't have access to other drugs, prescription or otherwise. In fact, nearly 70 percent of inhalant users are under 18 years old.
Inhaling these chemicals is extremely dangerous and can cause serious health problems. "Sudden sniffing death" is also a significant risk when abusing these products. There are also two drugs that are classified as inhalants: poppers and nitrous oxide.
Although inhalants don't usually cause physical dependence, they may cause psychological dependence. If someone uses them for a long time, inhalant withdrawal can lead to some difficult symptoms such as hallucinations or seizures. Chronic abuse of inhalants can also lead to debilitating health problems such as kidney, heart, liver, and lung damage.
How Inhalants Affect the Brain
Most inhalants act on the central nervous system (CNS), causing brain activity to slow down. The exception to this is nitrites, which work by dilating and relaxing the blood vessels, causing an increase in blood flow.
Effects of inhalants on the brain are similar to those caused by drinking alcohol, including:
Slurred speech
Lack of coordination
A "high"
Dizziness
Users may feel light-headed, develop a headache, or even have hallucinations. They may also have seizures or fall into a coma.
Chronic use of inhalants may cause more severe effects on the brain and CNS including:
Nerve damage
Hearing loss
Memory loss
Delusions
Developmental delays
Brain damage
What You Can Expect From Inhalant Withdrawal
Inhalant withdrawal symptoms are often similar to those of alcohol or benzodiazepine withdrawal and may last about a month or longer. Symptoms of inhalant withdrawal may include:
Trouble sleeping
Irritability
Agitation
Sweating
Nausea
Vomiting
Rapid heartbeat
Hallucinations
Delusions
Inhalant Withdrawal Timeline
Inhalant withdrawal symptoms are worse within the first two to five days after last using it. Symptoms may last a month or longer and usually include:
Tremors
Irritability
Anxiety
Insomnia
Delirium
Tingling
Seizures
Muscle cramps
Chills
Headaches
Muscle cramps
Stomach pain
Additional withdrawal symptoms, particularly among those who have been using inhalants for a long time, may also include symptoms similar to delirium tremens, or "DTs." This is a severe, and potentially deadly, withdrawal symptom that is often experienced by long-time abusers of alcohol or benzodiazepines. Due to the seriousness of these symptoms, it's essential to get professional help while going through the withdrawal process.
What Are the Inhalant Withdrawal Treatment Steps?
Getting treatment for inhalant withdrawal by following a full continuum of treatment provides the most comprehensive approach. This means starting treatment with the detox phase and then progressing through less intense levels of treatment. By participating in full continuum of treatment, you will be better positioned for a successful recovery. Stages of treatment usually include: detox, inpatient, partial hospitalization, intensive outpatient, and alumni or aftercare.
Detox
Detox is the first stage of withdrawal treatment. The goal during this stage is medical stabilization. First, you will receive a complete medical assessment to determine your level of addiction and any additional medical needs you may have. This will include a medical exam and urine or blood tests to screen for drugs.
Your physician may also require additional testing such as: additional blood tests, including a CBC (complete blood count), chest X-ray, ECG (electrocardiogram), and testing for other diseases. Because chronic inhalant addiction often causes other serious health problems, your doctor may also examine you for kidney, heart, lung, or liver conditions.
Once the doctor has your test results, he or she will design a detox plan for you. Then, under the care of your medical team, you will begin the detox process. Your medical team will include doctors, nurses, and support staff.
Sometimes people who are addicted to stimulant drugs are also using or addicted to other substances, including alcohol, or other substances. Because withdrawing from these substances can be very difficult and even life-threatening, a personalized treatment plan may also include medical intervention to withdraw from these other substances.
Behavioral treatment is also an important part of the withdrawal process and recovery. Your treatment plan will also include behavioral therapy and emotional support.
During detox, you will be under clinical surveillance 24/7.
Inpatient/Residential Treatment
The inpatient level of treatment requires living at the addiction treatment center while you undergo a structured full-time therapy program. By staying at the center, you are able to focus solely on your recovery without any distractions from your regular life. Residential treatment may be recommended if you have addictions to additional substances or if you have other medical conditions that require monitoring.
Partial Hospitalization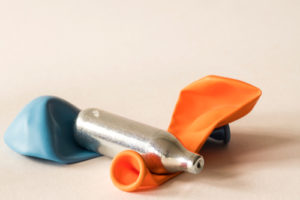 Your plan may include a partial hospitalization program (PHP) instead of inpatient treatment if you don't have serious co-occurring conditions. Or, it may be advised as a step between inpatient and outpatient treatment stages. While participating in PHP, you will live in on-campus apartments in a structured environment with an intense level of treatment, but without the constant monitoring of an inpatient facility.
Intensive Outpatient
The goal of treatment is to help you slowly adjust to life outside the rehab facility while helping you build the skills and resources you need to cope and avoid relapsing. Once you have completed the medical detox and inpatient phases of inhalant withdrawal treatment, the next stage is to continue treatment in an intensive outpatient program (IOP).
During this stage, you will still attend intensive therapy sessions, up to about 20 hours per week.
This stage of treatment is intended to help you continue to be accountable for your recovery. It will also include periodic weekly drug testing. The main focus of IOP is to help you continue to build coping skills and prevent relapse.
Alumni
Once you have completed the treatment program, you will have the opportunity to join other treatment center alumni during weekly support groups and social events. Meeting other program graduates at these events is a great way to develop new friendships and build social support with others who understand the recovery process. This support network can be a vital resource to help you grow and stay focused on your recovery as you continue to adjust to life after the treatment program and take on new responsibilities.