Massachusetts is a U.S. state with a population of close to 7 million people. It is the birthplace of Thanksgiving and where the famed Boston Tea Party occurred in 1773. Today, the city is highly ranked in the fields of education, technology, and healthcare.
In a U.S. News & World Report Best States survey, Massachusetts ranks near the top at No. 8. It scored in the top five for healthcare, crime, and corrections, and boasted a robust economy. Along with a strong economy comes a population that also ranks high in heavy alcohol use.
Alcohol is the only substance of abuse that is legal in all 50 states. The legal drinking age throughout the country is 21 since the National Minimum Drinking Age Act was passed in 1984, establishing it as the minimum legal purchase age. Perhaps that is why nearly 23 percent of adults engage in excessive or binge drinking.
The 2018 National Survey on Drug Use and Health reports that close to 140 million people drank alcohol, and 67.1 million binge drinkers (48 percent of total alcohol users).
Fortunately, several top-rated alcohol rehab centers are near Massachusetts, where people struggling with alcohol addiction can get help. Heavy alcohol use wreaks havoc in every aspect of someone's life, from their finances to health and safety. Keep reading to learn more about alcohol use in Massachusetts and how to get help.
Massachusetts Alcohol Rehab Statistics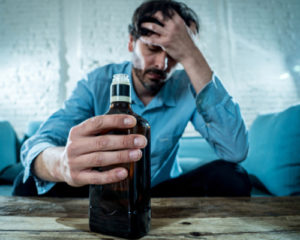 The rate of adolescent alcohol use is high in Massachusetts. State data on teen drinking found that while the percentage of high school students who had drunk alcohol decreased slightly from 61 percent in 2015 to 56 percent in  2017, close to 16 percent of teens engaged in binge drinking.
A USA Today article notes that Massachusetts came ranked 13th of 50 on the "drunkest states in the U.S." It reports that 19.5 percent of adults drink excessively in the state.
Benefits of Alcohol Rehab
One of the most significant benefits of alcohol rehab is having medical professionals with you when going through life-threatening withdrawal symptoms. While some may seem mild such as anxiety and headaches, others like tremors, nausea, and vomiting can be deadly if not treated immediately.
Addiction treatment and alcohol use disorder (AUD) needs to be available, treat all aspects of the person's addiction, and last long enough (90 days) to be effective. Recovery from substance use is a lifetime process. Relapsing is common, and a sign that treatment needs changing to better suit the needs of the person in rehab.
Drinking alcohol is as common in the United States. Excessive drinking and binge drinking are dangerous for both adults and teens. It can lead to serious illness, injury, or death. That can be avoided by entering an alcohol rehab center. One phone call can get you there.