According to the Office of National Drug Control Policy (ONDCP), heroin is considered the biggest drug threat in Massachusetts. In 2011, it was the top drug cited as the primary drug of abuse for people entering substance abuse treatment programs. Marijuana, prescription and other opioids, and cocaine also were reported to be drugs of abuse.
The Massachusetts Department of Public Health (DPH) reports that about 4 percent of residents in the Commonwealth battled addiction involving an opioid drug in 2015. The rate of opioid overdose deaths in Massachusetts was 29.7 deaths per 100,000 residents in 2016, which was much higher than the national average rate of 13.3 fatalities per 100,000 people. This places Massachusetts in the top 10 for highest opioid overdose death rates among all states in the U.S., per the National Institute on Drug Abuse (NIDA).
Massachusetts recorded the highest number of emergency department visits involving an opioid in 2014 with a rate of 450.2 per 100,000 population; the national average was much lower at 177.7 per 100,000 population. There were just more than 2,000 opioid overdose deaths in Massachusetts in 2017, which was actually a 4 percent decrease from the year before.
Fentanyl and synthetic opioids are becoming more prevalent in Massachusetts, however. In 2017, among overdose deaths where a toxicology screen was performed, nearly 90 percent showed the presence of fentanyl.
State Gov. Charlie Baker and government officials have instigated several initiatives and programs designed to tackle the opioid abuse and overdose epidemic in Massachusetts. The following initiatives have been implemented:
Changes in opioid prescription patterns, leading to a decline in total prescriptions dispensed
Increased use of the prescription drug monitoring program (PDMP) to better track potential drug diversion and misuse
More treatment beds in addiction treatment programs and sober living arrangements
Expanded access to on-demand treatment at opioid urgent care centers
Implementation of screening, brief intervention, and referral to treatment (SBIRT) in schools
Expanded access and use of the opioid antagonist and overdose-reversal drug naloxone
Both private and public providers offer resources for opioid addiction treatment in Massachusetts, which often begins with an opiate detox treatment program.
MA Opiate Detox Treatment Resources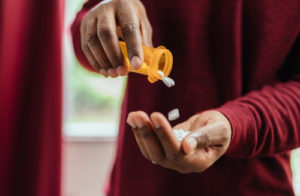 To find help for opiate detox in Massachusetts, residents have several options, including programs run or funded through the state, privately run addiction treatment facilities, and offerings provided through nonprofit organizations. The statewide system of substance abuse prevention, intervention, treatment, and recovery support programs are overseen by the Bureau of Substance Addiction Services (BSAS), a division of the Massachusetts DPH.
A public resource for finding treatment services in Massachusetts, the Massachusetts Substance Use Helpline, provides instant access to information and resources to residents free of charge. The helpline is staffed with trained specialists who can connect residents with local treatment programs and outline the options for care.
Public opiate detox treatment is given through acute treatment services (ATS) programs that provide medical detox with 24-hour care for three to five days. Medications are often required during opiate detox to manage the potential side effects of withdrawal, and medical detox programs provide the highest standard of care with around-the-clock medical supervision to enhance safety.
To be eligible for public ATS for opiate detox, a Massachusetts resident must be at least 18 years old and at risk for acute withdrawal. Priority is given to individuals who are pregnant, homeless, injection drug users, and those who have chronic medical issues.
The helpline provides information on detox programs in Massachusetts and delineates the ones that are funded through BSAS that accept individuals with no health insurance. Public detox services can often be provided for free or at a very low cost to eligible individuals with financial difficulties.
The National Alliance on Mental Illness (NAMI) Massachusetts and the Massachusetts Organization for Addiction Recovery (MOAR) are area nonprofit organizations that can provide information and resources for opiate addiction treatment and recovery support. Public detoxification services often have long waiting lists and accept individuals based on a determination of priority. They also generally have specific stipulations about the length of time a person can participate, types of programs that are offered, and medications that can be used. Private opiate detox can provide more flexibility, immediate access, additional privacy, and a wider range of treatment and medication options.
The Behavioral Health Treatment Services Locator that is hosted by the Substance Abuse and Mental Health Services Administration (SAMHSA) can help individuals find local treatment options that are accredited and certified to offer opiate detox within Massachusetts.
What to Look For in an Opiate Detox Program
Opiate detox is a vital part of an addiction treatment program that can provide a healthy level of physical stabilization before entering a full addiction treatment program that will address all aspects of addiction. When looking for an opiate detox program, there are several things to confirm.
Do Your Research to Be Sure the Program Is the Right Fit.
Confirm you can enroll immediately and easily.
Ask about the level of privacy afforded, including how many people are in each room.
Inquire about medications that are used in detox, such as methadone, buprenorphine, naltrexone, and combination medications. Also, ask if off-label medications and supplements are options to manage symptoms of withdrawal.
Discuss the level of supervision provided and the type of staff who are employed to offer medical, mental health, and substance abuse support as well as their required licenses.
Find out about the program and facility's credentials, accreditations, and licensure.
Ask which behavioral therapies are used during detox.
Safe, clean, and calm environments are key.
Inquire into payment methods and work out a plan before admission. Many programs take insurance, offer payment plans or financing options, or will provide treatment services based on a sliding scale depending on financial situations.
Confirm they offer concurrent and integrated treatment by a team of trained professionals for co-occurring mental health and/or medical disorders and illnesses.
Inquire about quick entrance, immediately following detox, into a comprehensive addiction treatment program through a seamless continuum of care.
There are many available resources when it comes to finding an opiate detox program in Massachusetts. Additional sources can include primary care physicians, mental health professionals, and personal friends or family members who have attended programs before. Members of local recovery support organizations, such as the New England Region of Narcotics Anonymous (NA), may be able offer referrals based on personal experience with local programs. Local substance abuse treatment providers can also provide information on their programs and offerings, and answer any questions that may arise about opiate detox.