Woodbridge Township is a quaint little town in Middlesex County, New Jersey. In 2010, an estimated 99,585 people lived in the city, which is close to Staten Island. The entire state of New Jersey has a population of over eight million, but towns like Woodbridge Township have seen a steady increase in alcohol abuse.
In 2017, an estimated 16.7 percent of adults in the state reported binge drinking in the past 30 days, and according to the Asbury Park Press, 26.1 percent of adults in the state said they binge drink regularly. Of those interviewed, the average alcohol consumption was 2.33 drinks for those 14 and older. The U.S. Centers for Disease Control and Prevention (CDC) defines binge drinking as five or more drinks for men in the span of two hours, or four or more drinks for women in the same time.
Other data released from America Health Rankings shows that nearly 20 percent of adults in New Jersey engaged in binge or chronic drinking in 2019. Chronic drinking is defined as 15 or more drinks per week for men and eight or more for women.
Fortunately, those living in Woodbridge Township in New Jersey have the option to free themselves of alcohol addiction, also known as alcohol use disorder. Even moderate alcohol use has the potential to destroy lives. Alcohol consumption can ruin friendships and drain your bank account, but it can also be fatal for those drinking and others around them.
Excessive alcohol consumption harms more than just the individual, and according to statistics, it led an economic toll of $249 billion and killed 88,000. It doesn't have to be that way, and treatment is available to those who need it.
Woodbridge Township Alcohol Rehab Statistics
Middlesex County is among the top five counties in New Jersey that claim the highest percentage of people in addiction treatment. As of 2018, an estimated 1,916 people were in alcohol rehab for their addiction.
Alcohol use disorder was the second leading reason for addiction treatment in 2017, which followed heroin and other opioids.
The state of New Jersey holds 130 treatment facilities, which are vital in treating alcohol addiction.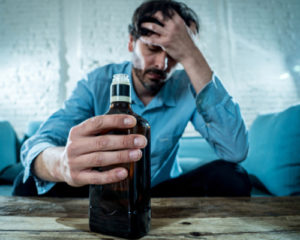 Benefits of Alcohol Rehab in Woodbridge Township, New Jersey
Behind tobacco and poor diet, alcohol is the third leading preventable cause of death nationwide. Alcohol use disorder occurs when drinking comes in between responsibilities and when someone loses control of how much they drink. In more severe cases, the person will experience withdrawal symptoms when they are not drinking – this can be deadly.
Effectively treating alcohol use disorder requires addiction treatment, which must be readily available and last long enough to benefit the recipient. Treatment must cover all areas of a person's addiction, including socioeconomic, physical, and psychological reasons. Those in treatment must understand it is an ongoing process where relapse is common. Do not view it as a sign of failure, but rather, an opportunity to adjust your treatment plan.
Alcohol consumption is prevalent nationwide, but chronic or binge drinking can cause a plethora of problems. All it takes is a click or phone call to avoid the dangers associated with abuse if you're living in or near Woodbridge Township, New Jersey.