Drug abuse trends in New Jersey are similar to current trends of drug misuse across the United States.
Drug Abuse in New Jersey
Individuals in New Jersey struggle with the misuse of alcohol, prescription medications, illicit opioids, and other illegal drugs. One of the most significant drug-related concerns in New Jersey at the moment is the ever-increasing opioid epidemic.
According to the National Institute on Drug Abuse (NIDA), there were 1,409 fatal opioid overdoses in New Jersey in 2016. At a rate of 16 deaths per 100,000 people, this number is greater than the national average in 2016, which was 13.3 deaths per 100,000 people.
In New Jersey, deaths caused by heroin use saw the highest rise, increasing from 97 fatalities in 2010 to 850 in 2016.
Synthetic opioids also continue to cause significant health problems in New Jersey. There were 35 fatal overdoses in 2010 compared to 689 in 2016.
In addition to the concerning rates of opioid abuse in New Jersey, public health officials share worry about the state's prevalence of disease related to injection drug use. In 2014, the state saw a rate of 475 cases of HIV per 100,000 people compared to the national average of 299.5 cases per 100,000 people.
Likewise, diagnoses of hepatitis C due to injection drug use in New Jersey are concerning. In 2015, an estimated 160,000 people were living with hepatitis C compared to 3.5 million people across the country.
Drug Trends in Trenton
Similar to New Jersey and the rest of the country, Trenton struggles with a pattern of drug use, abuse, and related health concerns.
Trenton, which belongs to Mercer County, shows a slightly lower than average rate of drug use when compared to the rest of the state. It has much fewer admissions to substance abuse treatment programs every year than other counties, such as Essex, Middlesex, and Ocean, but more residents seek treatment in Mercer than in Sussex, Warren, Hunterdon, and Salem.
In Mercer County, the most common primary drugs of abuse and how commonly they are abused include:
Heroin at 36 percent
Alcohol at 26 percent
Marijuana at 19 percent
Other opiates at 7 percent
Cocaine at 7 percent
Other drugs at 3 percent
Out of the 13 cities that belong to Mercer County, Trenton had the highest rates of substance misuse and subsequent addiction treatment admissions in 2017.
The Drugs That Most Residents of Trenton Sought Treatment for Include:
Heroin with 510 admissions
Alcohol with 399 admissions
Marijuana with 380 admissions
Cocaine/crack with 162 admissions.
Other opiates with 108 admissions
Other drugs with 48 admissions
Out of the 2,991 total admissions of Mercer County residents to substance abuse treatment programs in 2017, 1,607 admissions were residents of Trenton.
Socioeconomic status, education levels, and affordable access to health care all impact the high rates of substance abuse in Trenton. Despite community efforts to increase access to treatment services for at-risk populations, drug use remains a public health concern.
How Does Drug Use in Trenton Compare to the Rest of the Country?
The rates of alcohol, opiate, and marijuana use in Trenton are reflective of drug use across the country, though some differences are present.
According to the 2017 National Survey on Drug Use and Health, marijuana was the most widely used illicit drug in the U.S. among people aged 12 and older, followed by prescription pain relievers, cocaine, prescription stimulants, and tranquilizers, hallucinogens, methamphetamine, inhalants, heroin, and finally prescription sedatives.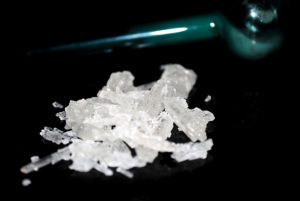 Unlike in Trenton, relatively few people across the country use heroin recreationally. Substance abuse professionals and researchers in Trenton associate the high rates of heroin use there with the accessibility and affordability of heroin.
Heroin in New Jersey is much cheaper than in other parts of the country. Most users report that it is a clean product, meaning it is not laced with other illicit and dangerous substances.
While the misuse of prescription medications remains a significant problem across the U.S., illicit drug use is of greater concern in the Trenton area. Although many people assume prescription drugs are safer because they are coming from a regulated manufacturer, many people cannot afford their high cost and turn to far cheaper, illicitly produced drugs instead.
The Community's Response to Drug Use
The Trenton community is working hard to combat the increasing rates of drug use and associated health concerns. Many local organizations have formed in response to the need for affordable and accessible New Jersey detox services.
The Mercer County Office on Addiction Services, for example, was formed in the late 1970s to promote and oversee addiction treatment services throughout the county.
Community substance abuse programs available in Mercer County include:
Community-based prevention
Early intervention
Treatment services
Education components
Recovery services
Programs like the ones listed above are aimed at helping at-risk populations, as well as special populations, that may not access treatment services otherwise. A continuum of services is offered throughout the county, so intervention is possible at every stage of substance abuse.
The goal of the Mercer County Office on Addiction Services is to provide treatment resources and services to all residents of the Mercer community who are affected by alcohol and drug abuse.
Local Treatment Options
The Division of Mental Health and Addiction Services (DMHAS) of the state of New Jersey's Department of Health provides an online directory for addiction treatment services, broken down by county. Hundreds of licensed treatment agencies are available in the Mercer County area that offers affordable and accessible addiction treatment services.
A Few Of the Agencies Available In the Trenton Area Include:
Catholic Charities: New Choices. This afterschool addiction treatment program based in Trenton claims a 90 percent success rate at helping students overcome substance abuse.
Oaks Integrated Care. A health care agency that offers 230 health and social service programs in 19 counties throughout New Jersey for children, adults, and families impacted by mental illness, developmental disabilities, or addiction.
Rescue Mission of Trenton. This halfway house offers long-term, residential, and outpatient recovery services for people with co-occurring mental health and substance abuse problems.
Depending on your level of need, there are outpatient, intensive outpatient, detoxification, residential, and partial care addiction treatment programs available in the Trenton area. Whether you are looking for help for yourself or a loved one in New Jersey, many organizations are waiting for you to take advantage of their services and help reverse the trends of drug use in Trenton.