For some, years of addiction can have altered their lifestyles in ways they never thought would happen. Eventually, however, people will be exhausted by the cycle of waking up, seeking drugs or alcohol, and repeat. The road to recovery is a personal experience that varies from one person to another, but many options exist to place someone back on the right path. 
One of these options is known as SMART Recovery® (Self-Management and Recovery Training), which is a method that allows participants to discover the power of choice when deciding their possibilities. The objective of SMART Recovery® is to help those overcome addiction and integrate back into society as an independent person.
A nonprofit organization started the SMART Recovery® program in 1994. The program aims to empower individuals by providing tools that teach someone how to overcome their addictive behaviors.
It teaches participants how to improve their lives by drastically changing the behaviors that led them to use drugs. They aim to curb self-defeating thinking, actions, and emotions by using evidence-based principles to achieve the goal of long-term sobriety.
As the science of addiction has evolved, SMART Recovery® has been viewed as a source for substance abuse and addiction recovery. Some of the institutions that promote SMART include the American Academy of Family Physicians, the National Institute on Drug Abuse, and the National Institute on Alcohol Abuse and Alcoholism.
To become worthy of these endorsements, a program has to be a significant impact in its industry, and SMART has done just that. In addition, they offer an international space online where individuals can meet online in 28 different meetings. It speaks volumes of their commitment to heal those who are broken.
If you are struggling with addiction and have been weighing all of your options, you may be wondering if SMART Recovery® is for you. It has the potential to increase the quality of life dramatically, and the article below will highlight some of the primary reasons the program can benefit you or someone you love.
What Is Smart Recovery®'s Mission and Approach To Overcoming Addiction?
SMART has one mission when it comes to treating addiction — "to provide those who seek their services with a no-fee, self-empowering, science-based, face-to-face, and online support groups to abstain from any substance or active addiction."
The website goes on to describe their approach as:
Teaching self-empowerment and self-reliance
Teaching tools and techniques for self-directed change
Encouraging individuals to recover and live satisfying lives
Providing educational meetings and includes open discussions that others can join
Evolving as scientific knowledge of addiction recovery
Advocating the proper use of prescribed medications and psychological treatments
What Evidence-Based Practices Does SMART Use?
Evidence-based addiction treatment methods are crucial to addressing the root of the addiction. These treatment methods include specific therapies, and they are designed toward treating behaviors that accompany substance abuse and addiction. The approach consists of Motivational Enhancement Therapy (MET), Cognitive Behavioral Therapy (CBT), and Rational Emotional Behavior (REBT). The therapies all have proven to be successful in treating addiction.
SMART has a 4-point program that covers various addiction behaviors that individuals cannot overcome alone.
The 4-Point Program Covers:
Drug addiction
Alcohol addiction
Substance abuse
Alcohol abuse
Illicit and prescription drug abuse
Gambling addiction
SMART's website says, "We assume that there are degrees of addictive behavior and that all individuals to some degree experience it."
In short, the program offers recovery for those with various types of addictions. Addiction treatment should never be a one-size-fits-all format, and the many therapies they offer reflect their attention to detail.
How Does SMART Recovery® Help People In Recovery?
The initiative of SMART Recovery® is to encourage people to abstain from addictive behaviors that can harm them. The program also refrains from using terms such as "alcoholic" or "addict," and any other labels that give a negative representation about a person that is seeking a better life away from substance abuse.
These words can detract a person from their goal of getting sober, which is why they refrain from a particular language. Additionally, SMART offers sponsors to individuals face-to-face in meetings globally that can take place online every day. They also provide a message board with a 24-hour chat room available seven days a week to spread their message to anyone who seeks more information about SMART Recovery®.
Is SMART Recovery® A 12-Step Program?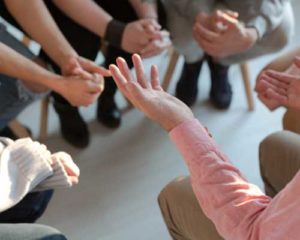 SMART differs vastly from programs such as Alcoholics Anonymous (AA) and Narcotics Anonymous (NA). The most apparent difference is the approach. SMART Recovery® is based solely on evidence-based practices that focus on statistics and data about recovery, whereas 12-step programs are reliant on faith. SMART is much more flexible as science is continually evolving to reflect new methods to combat addiction.
Twelve-step programs treat each person the same, whereas SMART Recovery® steps away from the traditional cookie-cutter approach. Addiction treatment must be tailored for specific needs; otherwise, it will not be sufficient, which is why a scientific method is much more useful when it comes to addiction.
Another glaring difference between the two is that 12-step programs are reliant on labels for those who participate in the program. SMART Recovery® does not believe in labels. The program also does not believe that addiction is an ongoing process but that it can be graduated after completing the SMART Recovery® program by applying the tools learned during your time with them.
[anchor-heading id="right" heading="Is SMART Recovery® Right For Me?"
No matter the stage you find yourself in during the process of recovery, you can join SMART. There are options available known as the stages of change. These stages are:
Precontemplation: "It isn't that we can't see the solution; it's that we cannot see the problem." People who are in this phase usually show up to therapy because others have pushed them to go. They may feel the situation is hopeless.
Contemplation: Contemplators understand a problem is present and begin thinking about how to solve it. They may struggle to understand the factors that cause the problem and wonder about the solutions.
Preparation: In this stage, someone has the intention of taking action and start making the final adjustments before changing their behaviors. Some convincing may be necessary at this point.
Action: Those in the action stage will start to alter their behaviors and surroundings, which prepares them for their next step. The stage requires extraordinary commitment as well as time and energy.
Maintenance: Change never occurs with action alone. A strong commitment to maintaining one's newly found sobriety is also essential. Relapse, unfortunately, is still a possibility at this point.
SMART offers participants the specific tools and strategies that help them work through each stage and practice it in a way that suits them best. 
Nobody but you can determine if SMART Recovery® is right for you, but the program has been proven to have success for many participants.
Let Serenity at Summit Help Choose Your Recovery Option
Addiction can place people into lives they never could have imagined. Fortunately, the science of addiction has come a long way to provide the highest levels of care. The most challenging part should be admitting to the problem and overcoming it, not choosing a treatment center. 
If you or a loved one is battling an addiction of any kind, they must seek treatment immediately. Our addiction specialists at Serenity at Summit are ready to listen to your story today. Feel free to give us a call 855-956-4940 or contact us online to learn more about how we can help.