College is one of the most rewarding experiences in a young adult's life. The experience is designed to set the individual up for the rest of their lives and prepare them for what lies ahead. For many, it is the first time they've experienced freedom away from their families, which is one aspect young adults look forward to.
Unfortunately, despite the academic rigors that lie ahead, college is a time for experimentation that those in recovery might have a hard time adjusting to. Whether you're a new student or someone returning to college later in life, you must balance your recovery during this time. As we've seen in movies or experienced firsthand, college is a time where students use drugs and alcohol or participate in dangerous activities.
If you are about to start college or go back and feel anxious about how you'll manage your recovery in college, it's important to know there's hope. Not only is it possible to maintain your sobriety during college, but it'll be a lot easier than you anticipate. However, it will require a strong mindset and being committed to the cause to overcome the stress you'll experience during school.
Balancing Recovery in College
If you fall under the category of one of the millions of people in the United States struggling with a substance use disorder, you're aware of the damage drugs and alcohol have on your life. Your number one priority should always be your recovery because, without it, you know that you can lose everything.
Balancing your college life and sobriety can be challenging. Between the stress of classes, maintaining sobriety in a party atmosphere, and everything else that comes along for someone balancing recovery in college, you must pay close attention to your external triggers.
Just because you're in the recovery process doesn't mean you shouldn't go out and enjoy the college experience – this is the only time in your life you'll get to experience this. With that said, there are specific techniques you can employ to assist you with finding a balance in your recovery and learning how to enjoy the college experience.
Avoiding Relapse
Under ordinary circumstances, avoiding relapse is exceptionally challenging, but attempting to do so in this type of environment makes it even harder. You must always be aware of the signs of a potential relapse. If you find going to parties with your friends to be a trigger or other stress associated with your intense college workload, it could throw you off your recovery course.
Fortunately, there are ways to manage your triggers and continue growing in your recovery and as a person. The following are some tips you should consider to help you find balance if you're in recovery and going to college.
Reduce Your Stress
Stress is one of the most common triggers for those recovering from drug and alcohol addiction. In college, you won't find any lack of pressure. From projects, social anxiety, and midterms, stress is common in college.
Luckily, there are many ways to battle stress. Taking the following precautions will help you avoid relapse, and make your daily routine in college more enjoyable.
Some of the ways to naturally reduce stress include:
Meditation
Yoga
Journaling
Eating a balanced diet
Exercise
Maintaining a schedule and staying organized in your life
Reducing stress in your life will eliminate one of the primary reasons a person relapses and help you experience more comfort in your life. When you live stress-free, you will look forward to tough classes and learn more while not being in constant fear of relapsing.
Building Your Support System
Finding and building a support system is essential for gaining balance in recovery while attending college. For starters, you should research 12-step meetings or SMART recovery meetings. These will provide you the necessary support you'll need during the college experience.
By making these meetings available to you, you can attend regularly, hold yourself accountable for your recovery, and vent to others who can empathize with your situation. If you're in a college area, many others may attend the school, meaning you could find new friends in recovery. Even those not struggling with substance use disorders find it difficult to handle the stress at times, and having the right people around you can be the difference between succeeding and relapse.
Connecting with Others in Recovery
One fact you may not have been aware of is that most colleges provide on-campus recovery programs for students and faculty in recovery. Joining these groups will offer you access to a network of other sober students that you can enjoy sober activities with.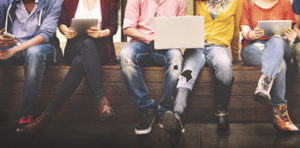 Surrounding yourself with others in recovery will allow you many resources to spend time with and reach out to in a time of need. Another benefit is you know they'll never be actively drinking or using drugs.
Creating long-lasting memories and making friends you'll have for life is the best part of the college experience. Sober friends will enjoy different activities and help hold you accountable in recovery. It's important to research the sober programs your college campus might offer or ask others in recovery what they're doing to balance sobriety and college life.
How to Manage a Relapse
Nothing is a perfect science, and if you're young in college, it might be part of your experience. If you slip-up, keep in mind that it's okay and there's a solution. What's important is using this to get back on track as soon as possible; otherwise, you could be facing a long-term active addiction run, which could potentially ruin your chances of staying in school and excelling beyond.
Many schools have a no-drug policy, and if you use drugs or alcohol, you understand that everything will take a backseat, including your assignments. If you relapse, you must reach out to someone around you to help you get involved in your recovery. Whether it's meetings or something else, your friends around you want the best for you and will be willing to help you get back on track.
Depending on what substance you've relapsed, you may need to consider heading to detox. Rehab may also be useful in helping you adjust your plan to reflect the changes in your life. Although it'll require you to leave school for a short period, your physical and mental health are always the top priority. You will not be able to find balance in recovery and college if you're actively using drugs or alcohol. Keep in mind; help is always available to you. You don't have to stay stuck in the cycle of addiction when so many options exist. You should enjoy college, not battle active addiction.