Drug use in Newark is a serious problem that impacts some of the country's most disadvantaged citizens.
The Newark Community Collaborative Board implemented a study in 2016 focused on the connection between community distress and widespread substance misuse. According to the study, the average household income in Newark was just over $13,000, and 42 percent of residents had not completed high school.
In addition to low income and low levels of education, Newark also has the highest rates of substance use and HIV/AIDS, two risk factors that often go hand in hand, in New Jersey.
Overall, the people identified in this study demonstrated poorer health and socioeconomic outcomes than people from more affluent neighborhoods in New Jersey with lower rates of substance abuse.
The Impact of Drug Use in Newark
The influence of drug use extends beyond the health and economic risks faced by individual drug users. As rates of drug use continue to climb, the community struggles to provide a safe environment for its youth and to support one another.
Additional ways that drug use impacts the Newark community include:
Exposure to drug-related crimes
Witnessing or being involved in shootings
Being interrogated by the police about drug-related crimes
Fear of entering certain parts of the neighborhood
Parents fearing for their children's safety in regard to being victims of crimes or being exposed to drug use and greater risks of addiction
Drug Use Across New Jersey
Just as in Newark, drug use impacts communities across New Jersey.
According to the New Jersey Substance Abuse Monitoring System (NJ-SAMS) 2017 report, thousands of people struggle with substance use across the state. The primary drugs of abuse that led to substance abuse treatment admissions in 2017 were:
Heroin at 45 percent
Alcohol at 27 percent.
Marijuana at 13 percent
Other opiates at 7 percent
Other drugs at 4 percent
One of the greatest public health concerns in New Jersey is substance abuse.
Similar to the spread of the opioid overdose epidemic across the United States, New Jersey also struggles with opioid misuse. Prescription opioids and illegal opioids, like heroin, cause thousands of people to experience medical complications and seek substance abuse treatment every year.
Alcohol is the second most commonly abused substance in New Jersey, according to the NJ-SAMS. It is frequently abused concurrently with other drugs.
The Following Counties Have the Highest Rates of Substance Abuse and Admissions to Treatment Programs:
Essex
Middlesex
Monmouth
Ocean
Atlantic
Camden
The people in the above counties were most likely to be seeking treatment for alcohol, marijuana, heroin, or cocaine addictions.
Many rehab facilities that cater to every type of substance use disorder exist across the state.
The most common types of treatment programs people participated in 2017 include:
Outpatient treatment at 30 percent
Intensive outpatient treatment at 26 percent
Residential detox programs at 11 percent
Opioid maintenance outpatient programs at 10 percent
Short-term residential treatment at 9 percent
Long-term residential treatment at 5 percent
Partial hospitalization at 3 percent
Halfway houses at 3 percent
Early intervention services at 1 percent
All the above forms of treatment programs aim to help people with a variety of substance use disorders gain control over their lives again and re-enter their communities as healthy and productive members of society.
Among People Who Received Substance Abuse Treatment in New Jersey in 2017:
67 percent were male
33 percent were female
61 percent were white
22 percent were black
15 percent were Hispanic
Drug Use Statistics in Newark
Drug use in Essex County, to which Newark belongs, is very reflective of the statewide drug use trends.
In 2017, The Most Commonly Abused Drugs Were:
Heroin at 44 percent
Alcohol at 23 percent
Marijuana at 18 percent
Cocaine at 6 percent
Other drugs at 4 percent
Of the people who were admitted to substance abuse treatment programs in Essex County in 2017, 61 percent were male and, 39 percent were female.
The majority of people seeking treatment in Essex County are between the ages of 25 and 54.
There were 7,314 admissions for substance abuse treatment in 2017, with over 800 people being admitted for a repeat time.
According to the National Institute on Drug Abuse (NIDA), addiction relapse is a fairly normal part of the recovery process. Not everyone will relapse after completing a treatment program, though 40 to 60 percent of people are expected to do so.
Addiction is a treatable condition, but it is a chronic disease of the brain that needs continual attention. Relapsing following treatment does not mean that the program failed, but that the person needs an updated treatment plan that more effectively addresses their treatment needs.
Most Commonly Abused Drugs in Newark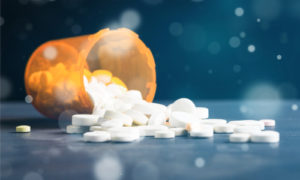 According to the study completed by the Newark Community Collaborative Board, popular drugs to abuse depend on what is available and most affordable.
In general, prescription drugs are preferred over illicit drugs, as recreational drug users often feel they are safer to consume than drugs bought off the street. Their cost, however, deters people from using them regularly. Illicit drugs like heroin, for example, are cheaper and easy to obtain on the street.
Treatment admission statistics for Newark in 2017 provided by NJ-SAMS show that Newark has a disproportionately high rate of substance abuse and people seeking treatment when compared to the rest of Essex County. Out of a total of 7,314 admissions for treatment for residents of Essex County, 4,099 residents were from Newark.
The Drugs That Led Most People to a Treatment Program Included:
Heroin, with 1,840 people
Marijuana, with 839 people
Alcohol, with 782 people
Cocaine/crack, with 263 people
Other opiates, with 201 people
Other drugs, with 166 people
Addiction Treatment
According to the NJ-SAMS 2017 report for Essex County, 74 percent of all residents who sought addiction treatment got that treatment in Essex County. The levels of care available to people in Essex included:
Outpatient care at 33 percent
Intensive outpatient programs at 25 percent
Opioid maintenance outpatient programs at 14 percent
Opioid maintenance intensive outpatient programs at 6 percent
Short-term residential treatment at 6 percent
Residential detox at 6 percent
Long-term residential treatment at 4 percent
Partial hospitalization at 3 percent
Halfway houses at 2 percent
Many of the people who entered the above treatment programs referred themselves to treatment (34 percent), or they were referred through the criminal justice system (27 percent). Other people entered treatment at the referral of a friend or family member, addiction services program, workplace program, or some other type of behavioral health program.
NIDA explains that there are many effective forms of drug treatment, as there is no one-size-fits-all treatment approach. The primary goals of all treatment programs, however, are to help people stop using drugs, remain drug-free, and become productive members of their families, places of employment, and communities.
Proven successful treatments for drug addiction include the following:
Behavioral counseling
Use of medications
Skills training
Treatment of any co-occurring mental health issues
Long-term treatment and follow-up care
Aftercare planning
No matter what type of treatment program you decide to participate in, it should take a holistic approach to treatment and consider all your unique needs. Treatment planning should center around your personal set of circumstances, experience with substance use, and goals for recovery.
Local Treatment Options
If you live in Newark and are looking for local substance abuse treatment options, there are many resources available to help you get started on your path to recovery.
Local programs aimed at helping people break free from the cycle of substance abuse include:
No matter what your addiction recovery needs are, there are people and resources available in the Newark area that are waiting to help.
If you have questions about where to start with addiction recovery, you can speak with representatives from any of the above organizations as well as your own health care provider. Any of these people will be able to get you on a path to recovery as soon as you are ready.