If you or someone you care about struggles with drug or alcohol abuse, there are many ways to get help. Because alcoholism and drug addiction can be difficult to overcome independently, an addiction treatment program that offers support and guidance can be a valuable step towards long-term sobriety.
Treatment For Addiction Can Provide:
Strategies that allow safe withdrawal from drug use
Counseling to develop the skills to achieve & maintain abstinence
Long-term support and follow-up to prevent relapse
Addiction treatment programs come in many forms, and the right one for you depends on your own needs and preferences. Though an addiction specialist can help you find the ideal form of treatment, it will also help to begin familiarizing yourself with the kinds of treatment available.
TYPES OF TREATMENT FOR ADDICTION PROGRAMS INCLUDE:
DETOXIFICATION AND WITHDRAWAL THERAPY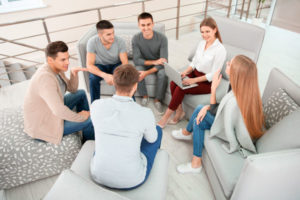 Many substances lead to extremely uncomfortable symptoms when use stops. In some situations these symptoms can even be life-threatening. The fear of withdrawal symptoms can drive people back to using despite the intention to quit.
Detoxification and withdrawal therapy is typically recommended for those who have severe drug or alcohol dependence. During a detoxification program, medications can be used to reduce withdrawal symptoms and make it easier to achieve initial abstinence. After detoxification, other methods of addiction treatment can be used to maintain sobriety.
12-STEP AND SELF-HELP PROGRAMS
12-Step And Self-Help Programs Are Usually Centered On Group Meetings Where Recovering Addicts Support Each Other In Maintaining Abstinence. Common 12-Step And Self-Help Groups Include:
Alcoholics Anonymous
Narcotics Anonymous
Cocaine Anonymous
Though 12-step programs are sometimes used as a primary form of addiction treatment, they are also frequently recommended as an adjunct to other addiction treatment programs. Indefinite attendance of 12-step meetings is typically recommended to assist with long-term maintenance of sobriety.
OUTPATIENT ADDICTION TREATMENT PROGRAMS
Outpatient programs offer the opportunity to enter addiction treatment without disrupting normal daily activities. During an outpatient treatment program, you will go through addiction treatment while continuing to live in your own home and maintain normal responsibilities.
Outpatient Programs Often Include:
Group meetings
Individual counseling
Family counseling
Drug screenings
Education sessions
Ongoing support
Outpatient programs vary in the time commitment required. Some outpatient programs may only require one day of treatment per week, while intensive outpatient therapy requires more frequent treatment, based on the individuals need and medical criteria established during an assessment.
Outpatient programs are useful for those who have full-time jobs or children, or those who desire discrete treatment. However, they are typically not recommended for those struggling with severe addiction or those who live in a high-risk environment.
INPATIENT ADDICTION TREATMENT PROGRAMS
During an inpatient or residential treatment program, you will check into a treatment facility and stay for an extended period. Such programs are often recommended for those with severe addictions because they offer a structured, secure environment. The elements of an inpatient program may be similar to an outpatient program but with the benefit of constant support and supervision
MAINTENANCE PROGRAMS
After an initial addiction treatment program has been completed, a maintenance program is typically recommended to aid in continued sobriety. Maintenance programs are necessary because alcoholism and drug addiction are chronic conditions that require daily maintenance to prevent relapse.
Maintenance Programs Can Include:
Continued attendance of group meetings and/or counseling
Changes in habits and relationships
A daily treatment and activity plan
Relapse prevention strategies
With the right addiction treatment program behind you, it is possible to overcome addiction and develop a more balanced life without substance abuse.