Detox and Residential Treatment Center in Union, New Jersey
We want you to feel comfortable knowing that you're in great hands during treatment. That's why we provide an individualized detox treatment approach. This means we tailor your plan based off your individual assessment and what you're addicted to. Our approach is motivational – not your standard detox process. Through motivating clients to take it step-by-step through detox, it builds the foundation to a long-term recovery solution.
Alcohol and Drug Detox Treatment
Truly Individualized Plans
Having individualized drug and alcohol detox treatment sets the stage for ongoing success. Why? Because no one individual has the same underlying causes of their addiction. Before the process begins, we have an initial assessment to determine what those underlying causes of your addiction are. From there, we can set up a medically supervised detox plan that will make you feel as comfortable as possible during detoxification.
If you're ready to take the first step towards sobriety, request a call from our specialists!
Our Drug Addiction Treatment Programs
Custom Detox & Residential Programs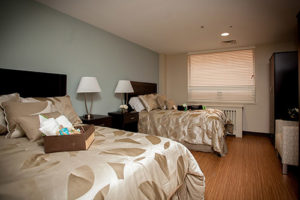 While at Serenity, clients feel nurtured, respected, and cared for in a relaxing, serene environment that helps them focus on their recovery. Having the best in both treatment practices and amenities can allow for our clients' success in achieving long-term sobriety. Serenity at Summit provides our clients with quality care in a beautiful, comfortable setting. It's the area's only premier detox facility featuring upscale surroundings and high-quality amenities, including:
Private concierge service for each client
Quality, chef-prepared meals & private dining
Well-appointed rooms with full & queen-sized beds
Integrative wellness programs to de-stress clients
Private accommodations available upon request
Detox Treatment for Street Drugs and Prescription Drugs
Treatment For Any Drug Addiction
Drug detox is an essential step for overcoming a serious drug addiction. Though this treatment is different for each individual, Serenity at Summit provides a plan to individuals with addictions to all types of drugs, including:
Heroin
Cocaine
Crystal Meth
PCP
Club Drugs
Morphine
Inhalants
Benzodiazepines
Methadone
All Prescription Drugs
Drug Withdrawal Symptoms
What To Look For
Withdrawal symptoms occur when a person abruptly discontinues or decreases the number of drugs or alcohol they use on a regular basis. Withdrawal symptoms can manifest in different ways, and to different degrees, depending on the type of the drug, the severity of the addiction, and the individual.
What To Expect From Our Drug Detox Center and Our Caring Staff
Upon admission, our experienced staff of physicians, nurse practitioners, clinicians, psychiatrists, and counselors provides each client with a personalized medical, psycho/social, and nutritional assessment. This is followed by a treatment plan that is geared to address all levels of the client's addiction.
Working together, our dedicated staff of physicians, nurses, psychiatrists, and counselors help determine the best course of action for each and every client. Any prescription medications used to minimize detox/withdrawal symptoms are carefully selected by our medical team, based on an individual's medical necessity.
Holistic Detox Treatment Approach
Treatment for the Whole Person – Mind, Body & Spirit
Detoxing from a highly addictive drug requires not only treatment to the body, but to the mind, and spirit as well.
So, in addition to the medical detoxification, Serenity at Summit provides optional holistic treatment therapies at an additional charge to help cleanse and heal each individual.
Clients Who Opt-in Can Expect To Participate In Numerous Holistic Activities Including:
Meditation
Yoga
Reiki
Aromatherapy
Massage
Acupuncture/Acupressure
What To Expect After Detox Treatment and From Our Caring Staff
After completing detox treatment, there are a variety of programs that can help individuals continue their journey for sobriety. Whether an inpatient program is right for them or an outpatient program is recommended, we will provide recommendations for program transitioning based off of their needs specifically. Serenity at Summit is a part of the Summit family of treatment centers. No matter what the needs are, we have the services available to help clients transition smoothly through every step of recovery.