Treatment of any health-related issue is often costly in the United States.
The Substance Abuse and Mental Health Services Administration (SAMHSA) has publicly stated that while there are 20 million-plus people in the U.S. who have a substance abuse issue, a very small number of these people actually get treatment. SAMHSA estimates that about 10 percent of people get treatment, and nearly 40 percent of people who need treatment for a substance abuse issue cannot afford it.
Many of these people are looking in the wrong place. There are quite a few treatment programs that offer interventions for substance abuse issues that are essentially free or charge very little.
Peer Support Groups That Are Essentially Free
Many peer groups that support addiction recovery are free or essentially free. Most people donate $1 or $2 at each meeting, making these groups a low-cost option for recovery support.
Advantages and Disadvantages of Peer Support Groups
In addition to their low cost, peer support groups are often highly accessible, have members who are experienced in recovery and offer focused and structured programs of recovery.
Some of these groups may have online extensions. Alcoholics Anonymous hosts meetings in nearly every major city in the United States at several times during the day. They have extensive memberships where participating members may have decades of abstinence and experience in recovery, and they are very welcoming of newcomers.
In terms of disadvantages, peer support groups are not run by trained professionals. As a result, they cannot offer medical advice, perform actual substance use disorder therapy, or make other professional recommendations.
Some people may find these groups to be rather cliquish.
The tendency for 12-step groups to rely on principles associated with the Christian religion (the use of God, a higher power, and other aspects of the program) may not be appropriate for everyone. If this is the case, try some of the other peer support groups that are alternative to the 12-step approach.
The Salvation Army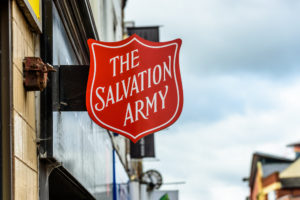 The Salvation Army has offered substance abuse treatment and support programs for adults for many years. Salvation Army programs offer many different advantages, including individual therapy, group therapy, and even housing or residential treatment in some cases.
The program is funded through donations, and like the 12-step model, these programs focus on spiritually based recovery and religious principles. The religious aspect of the Salvation Army approach extends even further than 12-step groups do. Nonetheless, this is a low-cost option for many.
Community Mental Health Centers
An underappreciated resource for many seeking low-cost treatment for mental health issues is their local community mental health center. Many of these offer specialized treatment at little or no cost for issues surrounding substance abuse.
Contact your local community mental health center and learn about their particular options.
Scholarships and Payment Plans
Some mental health treatment organizations may offer scholarships for substance abuse treatment. If you are interested in a particular center, find out if there any scholarship offerings. 
Even if they don't offer scholarships, some programs may offer payment plans that allow you to finance the cost of your treatment. You can then pay off the costs over time once you are sober.
Negotiating
Empty beds in a treatment facility will not pay for staff and other expenses. Some of these facilities may be willing to trade treatment services with individuals who do volunteer work for them. In some instances, they may significantly reduce the cost of treatment for an individual who needs care but cannot afford the full cost.
Second Chance Organization
The Second Chance Organization helps people who have been incarcerated or who have extremely low incomes. The organization also provides certain services to these groups. They may be able to help people finance their rehab or other treatment.
Although there is no guarantee that an individual can find low-cost treatment through this organization, it does not hurt to contact them and ask if they can assist in finding affordable substance use disorder treatment.
Getting Low-Cost Insurance
For people who do not have insurance, the two major options that can cover much of the costs of treatment are Medicare and Medicaid. 
Medicare is a low-cost insurance program that is available for seniors and certain people with specialized types of disabilities, whereas Medicaid is a form of government-subsidized insurance for low-income individuals. Contact either of these organizations through their websites and find out if they are qualified to receive insurance treatment from them.
In many cases, individuals with active applications for Medicaid can enroll in treatment for substance abuse and community mental health centers while they are waiting for their application to be approved.
Help Through Obamacare
Under the Affordable Care Act, all insurance providers must provide some level of treatment for substance abuse issues and other mental health issues. You might be able to find alternatives for affordable insurance that can greatly reduce the cost of treatment.
Other Options
Don't Be Embarrassed About Struggling With the Costs of Treatment. Addiction Treatment Is Often Expensive, and Many People Cannot Afford the Cost Without Some Help.
Contact local treatment providers and speak with their intake representative about the cost of treatment. Ask about any types of financing or low-cost options they have available.
Keep looking. Do not give up after one or two dead ends to find low-cost treatment.
Do not be afraid to borrow money if you need to. The cost of substance abuse treatment pales in comparison to the benefits it produces.
Use whatever insurance you have, and attempt to negotiate any out-of-pocket costs.