Veterans often take on heavy burdens to serve their country in the military. They may take on significant risks of physical injury and trauma. But they are also at increased risk of experiencing mental health problems as a result of high stress, combat exposure, and isolation from their families and cultures. The nature of military service often means suffering a toll on both mind and body. In some cases, veterans turn to alcohol or drugs to cope with loss, injuries, or post-traumatic stress.
Marines are especially an exceptionally well-trained branch of the military. They are often called the most effective branch because of their high-level training, overall cohesion, and high mobility. With that reputation, Marines often experience immense pressure to succeed, and they often do. However, pressure can also contribute to anxiety, depression, and other strains on mental health.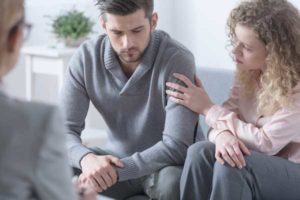 When Marines return home, it's a big adjustment. In the military, they are part of a cohesive group, a well-oiled machine. Everyone knows their part and how to play it. But home life is messy and disjointed. Finding your place in civilian life can be difficult. With past traumas, lasting injuries, and loss mixed into that adjustment, Marines often find they need help adapting.  Marines have one advantage when facing these challenges, though. They are among the most adaptable military members, and they're trained to overcome roadblocks.
Though these ailments are all too common among servicemembers, mental health issues and substance use disorders are treatable.
If you are a veteran or if you know a veteran who has been experiencing depression, anxiety, trauma, or a substance use disorder, there are many options available to address and treat these issues. Learn more about substance use disorders among marines and how they can be treated.
Treatment Options for Marines
Marines have resources at their disposal from the Department of Veterans Affairs, and from other specific resources for Marines. For instance, the Marine Corps Community Services provides educational services, referrals to treatment centers and services, group counseling, aftercare programs, and case management. They also perform random drug screenings for marines that are on duty. This is a helpful resource for people who recognize they need help with addiction but don't know where to begin.
Addiction treatment is the best way to address a substance use disorder effectively. Addiction treatment will be adapted to your individual needs with a personalized treatment plan. When you first begin the intake processes, clinicians will use the American Society of Addiction Medicine's criteria, a set of six dimensions used to identify a person's physical, psychological, and social needs, to place you in the right level of care.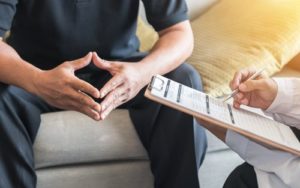 Once you enter a treatment program, you will sit down with a therapist and go through a biopsychosocial assessment. A biopsychosocial is a conversational interview with a therapist to help pinpoint your biological, psychological, and social needs. Through this process, you will be able to make a personalized treatment plan with the help of a professional.
If you have high-level medical needs, or if you've been using a substance that can cause dangerous withdrawal symptoms, you may need to go through a medical detox program. Medical detox involves 24-hour medically managed treatment.
This level of care is ideal for people who have used substances like benzodiazepines and alcohol that can cause potentially deadly withdrawal symptoms. But detox can also help people who might go through uncomfortable withdrawal symptoms that aren't necessarily life-threatening.
After detox, you may continue recovery in an inpatient treatment or outpatient treatment, depending on your needs. In treatment, you'll go through a variety of therapies that are designed to address substance abuse and underlying issues like depression and post-traumatic stress disorder (PTSD). Once you complete treatment, you can take advantage of your treatment center's aftercare program, which can connect you to community resources that can help you safeguard your recovery.Most insurance providers offer some coverage for addiction treatment. To find out if your insurance company would cover your treatment, you can speak to a specialist at Serenity at Summit or to your insurance company. The U.S. Department of Veterans Affairs also provides health care benefits to people who need treatment for mental health issues, including substance use disorders.
Substance Abuse and Veterans
According to the National Institute on Drug Abuse (NIDA), veterans who have gone through multiple deployments, combat situations, and injuries, are at higher risk of developing a substance use disorder. They are also more likely to binge drink, which is consuming four to five drinks within two hours. Veterans are also more likely to experience alcohol-related health problems than the majority of the population.
But Why Are Veterans More Likely To Experience Substance Use Issues Than Civilians?
Veterans are at increased risk of experiencing a condition called post-traumatic stress disorder (PTSD). PTSD is a psychological disorder that's caused by experienced physical or emotional trauma. Anyone can experience trauma from things like car accidents, assault, or abuse. But veterans are at a greater risk of experiencing PTSD symptoms. While most civilians are free to escape and avoid dangerous scenarios, veterans (especially marines) are often expected to go into dangerous scenarios. Combat and injuries are common causes of PTSD.
According to the U.S. Department of Veterans Affairs, veterans have experienced different levels PTSD depending on the conflict. Vietnam War veterans experienced PTSD at 15 percent, the Gulf War saw 12 percent of veterans experiencing symptoms, and Operations Iraqi Freedom and Enduring Freedom saw between 11 and 20 percent.
PTSD also has high comorbidity with substance use disorders. That means when PTSD shows up, you have a higher likelihood of experiencing a substance use problem. About 20 percent of veterans with PTSD also have a substance use disorder (SUD). Substance abuse and addiction can follow PTSD symptoms when a person tries to self-medicate. 
Self-medication is when a person tries to use drugs or alcohol to alleviate symptoms of a physical or psychological issue without consulting a doctor. Alcohol is the most commonly abused substance among veterans. Although, dependence on opioid painkillers is possible among veterans who were treated for injuries.
If mental health issues like SUDs and PTSD continue to go untreated for too long, it can cause serious consequences. Addiction can threaten multiple aspects of your life including your health, career, relationships, and legal standing. Addiction and other mental health issues can lead to long-term unemployment and homelessness. If you believe that you or a loved one is experiencing a substance use disorder, it's important to seek help.
Seeking Addiction Treatment Today
If you are a Marine and believe that you might have a substance use disorder, there is help available. It's important to address issues like an addiction as soon as possible to avoid long-term consequences that are associated with addiction like health, social, legal, and financial issues. 
To learn more about addiction and how you can find the best treatment for your needs, speak to an addiction treatment specialist at Serenity at Summit.
Call 844-432-0416 To Hear About Your Treatment Options And Take Your Next Step On The Road To Recovery. Addiction Is A Chronic Disease That Can Be Difficult To Overcome, Especially On Your Own. But With The Right Help At Your Side, Addiction Treatment Can Lead You To Lasting Freedom From Active Addiction.