The most recent statistics show that there is currently 332,904 active Navy personnel serving our country, with another 100,970 on ready reserve. The men and women who serve in our military provide a service that allows individuals such as you or I the opportunity to live with freedom. These individuals place their lives on the line and sacrifice their freedoms that enable us to have ours. Even with their strong character and dedicated service to our country, they are not immune to addiction. 
Addiction is a disease that is defined as a chronic, relapsing disorder characterized by compulsive drug seeking, continued use despite harmful consequences, and long-lasting changes in the brain. The National Institute on Drug Abuse (NIDA) released a study that shows it is a complex brain disorder and also a mental illness. Addiction is also the most severe form of a full spectrum of substance use disorders and is a medical illness caused by repeated misuse of a substance or substances. Addiction cost the United States more than 740 billion dollars last year related to healthcare, crime, and lost productivity.
Some service members in the Navy struggle with post-traumatic stress disorder (PTSD),  which may cause them to self-medicate to overcome and numb the pain they feel from deployment or life experiences. PTSD is a disorder that continues to grow, and it seems that our members of the military are prone to developing it. 44.7 million people currently struggle with PTSD, and that number is expected to continue growing. With that said, does the Navy provide addiction treatment services?
With the rise of PTSD and substance abuse, the Navy does provide a substance abuse rehabilitation program (SARP). Their mission statement is to
"deliver quality healthcare support in the Armed Forces. Maintain medical readiness. Advance medicine through education, training, and research."
SARP provides drug and/or alcohol abuse assessment, consultation, education, outpatient treatment, residential treatment, and continuing care services for all active duty adults. It is essential that our military provide these services due to the sheer volume of mental health problems that can result from being an active servicemember. We live in a world where war could break out at any time, but knowing these services are available can put our soldiers at ease. So what are some of the services the Navy provides?
Services Provided
The Navy provides several different options for their service member that can make an impact in their lives. Some of these programs include:
Impact:
Impact is a two and a half day program conducted every Monday and Tuesday. The program was designed for patients who have not been diagnosed with a significant substance use disorder. It is meant for those whose use of substances has created some concern for the patient. Impact involves participation that can help achieve accountability for the individual. It also includes an interactive educational curriculum and will introduce the person to 12-step recovery programs.
Outpatient:
The Navy provides an eight-day outpatient program conducted Monday through Friday on the first week, and Monday through Wednesday on the second week. The program is geared toward treating patients with an alcohol use disorder. The treatment is tailored to assist the patient with the development of a responsible drinking plan, as well as providing information on healthy alternatives to substance abuse. Treatment will involve participation in small and large group counseling, workshops and task groups, and self-help 12-step meetings.
Intensive Outpatient:
This three-week program will be conducted Monday through Friday. The program deals with patients diagnosed with an alcohol use disorder, and are determined to need an abstinence-based treatment program. The patients will participate in the treatment for full days throughout the three-week program. If the patient is coming from out of the area, they must arrange to berth at a local BEQ. Intensive outpatient treatment consists of participation in small and large group counseling, workshops and task groups, physical fitness and self help 12-step meetings.
Residential:
Residential treatment provided by the Navy will consist of a 34-day, 24-hour program conducted Monday through Sunday. The program is designed for those diagnosed with a substance use disorder relating to drugs or alcohol. Treatment takes place in the Submarine Base in San Diego, and it will consist of participation in small and large group counseling, workshops, and task groups. It will also include recreational activities, fitness, medical assessments, psychological/psychiatric assessment, and introductions to the 12-Step program.
Family Programs:
Addiction is often called the family disease, and educational, support and assistance programs offered to family members are essential. The program provides family members and enrolled patients the ability to learn more about how substance abuse/dependence impacts their family.
Continued Care:
This particular program is available to all patients leaving any formal treatment programs. The patient will attend orientation on the first Monday after treatment is completed and will then be assigned to a weekly Continuing Care group. The individuals will participate in these groups for up to a year if necessary. Weekly groups will provide the individual an opportunity to work alongside trained professionals as they apply the tools gained in treatment to their daily lives.
Is SARP as Effective As Standard Treatment?
While there are no statistics that back up the success of SARP in comparison to a standard treatment program, there are user reports online that discuss how ineffective they found SARP to be. The primary concern about the program is that it is not tailored to individuals, as you would find at an establishment that has built its reputation healing people. The programs listed above operate a certain way with very little room for change.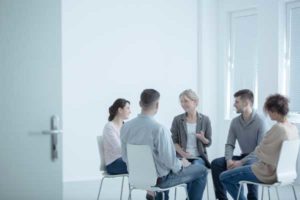 Treatment must be tailored around the individual's particular challanges to be effective. Matching treatment settings, programs and level of need is essential to the ultimate goal of long-term abstinence from drugs or alcohol. The most successful programs will implement a combination of therapies and other services to meet their client's needs. In addition to drug abuse, a client may require additional medical services. If someone is given a dual diagnosis, it means they could be struggling with depression, anxiety, or other mental disorders that require specialized care. 
Users reported that SARP does not take all of these into consideration, and the process is explicitly designed to abstain from drug or alcohol use without taking other problems into account. If you are struggling with an addiction to drugs or alcohol, it's crucial that you find care that will match your specific needs.
Let Serenity at Summit Treat You Today
If you are a Navy service member and are currently struggling with a substance use disorder involving drugs or alcohol, it's imperative that you get treatment immediately. Sometimes you can get so lost in addiction that you forget the difference between fantasy and reality. Unfortunately, this is the path that can lead to death or burning bridges with family or friends.
Let Serenity At Summit Be The Hand That Guides You Toward The Bright Light Of Sobriety. Our Addiction Specialists Are Ready To Listen To Your Story Today. Feel Free To Give Us A Call 855-956-4940 Or Contact Us Online To Learn More About How We Can Help.