If you need a handicap-accessible rehab program, you do not have to guess whether a program can accommodate your needs. You can ask the rehab you're considering the right questions before you decide on a rehab. And, by doing so, you can spot red flags that can help you determine whether the facility's program will support you during the treatment process.
You have a legal right to certain accommodations as well as a legitimate expectation that a program should meet certain needs. 
How Do I Make Sure a Rehab Program Is Handicap Accessible?
If you're not sure about whether or not a drug rehab program has the accommodations you need to be fully supported in your treatment process, take the time to do the research. You can:
Look at Google maps for pictures, reviews, and notations made about different accessibility and accommodations.
Look at Yelp and other review sites to see if other clients have had issues with getting their needs met. 
Talk to people in forums who are living with the same or similar disabilities as you are to learn about their addiction treatment experience at different programs. 
Call the drug rehab programs you are interested in directly and ask them what accommodations they offer. If you do not hear what you are hoping to on their list, ask them about specific requests.  
As you begin to explore your options, make notes about different programs that look like they might work. Remember, you will also have to take into consideration whether or not they will work with your insurance, and most important, if they offer a combination of services that you need to heal. It is not just a matter of whether or not they can accommodate physical disabilities.
Red Flags
Here are just a few of the red flags that can indicate whether you should continue your search for the right drug rehab elsewhere:
The drug rehab gets poor reviews on handicap accessibility from former clients, whether or not they share the same disability as you. An intolerant environment for one person can mean an intolerant environment for someone else. 
The people you speak with on the phone cannot provide you with a definitive answer about what you can expect, and no one who does have the answers returns your phone call. 
The answers you get, even though assuring, do not definitively state that you will have all the accommodations you'll need.
The drug rehab offers the handicap accessibility you need, but it does not offer the medical, mental health, or holistic treatment you need to heal.
Questions To Ask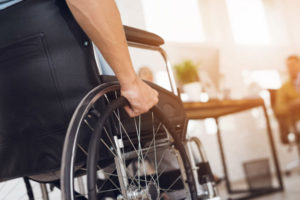 Get specific on your needs. Ask if they have: 
Ramps of a specific height to accommodate your chair
Railings where you need them in the bathrooms 
Elevators that make all areas of the facility accessible to you 
If you must stay on a certain diet because you have diabetes, Celiac disease, or a food allergy, make sure they can accommodate this and still provide nutritional, balanced meals. If you struggle with learning or intellectual abilities, find out if they can provide assistance to help you in your learning process. 
No matter what it is that you require to accommodate your disabilities of any kind, you need to ask questions and record the answers. If you can, tour the facility in person and see for yourself before you enroll.
What Kinds of Accommodations Can I Expect?
Though it would be ideal for all programs to provide equal access to all persons of all abilities, this is not the case.
Some are set up in locations that are difficult to access or focus heavily on therapies that are heavily physical and therefore inappropriate for those who are differently abled. Others simply don't have the resources to provide more than the most basic accommodations, and those may not be suitable to meet your needs. 
Keep asking for what you need, and find the program that is willing to provide it to you along with the comprehensive treatment that will help you free yourself from addiction.
Are There Laws That Protect My Right to Handicap-Accessible Addiction Treatment?
In many cases, yes. The Americans with Disabilities Act serves to protect those with disabilities and make sure they are not denied equal access and the same rights that all have. It is an ongoing battle, however, and not every drug rehab program or treatment facility — especially private centers — is in compliance. 
Others may offer what they say are "comparable facilities" for people with disabilities that are not necessarily objectively equal.
It is important to take the time to find out what is legally required in your state and to make sure that the drug rehab programs you talk to are aware of their responsibilities. This will ensure you have access to the best possible drug rehab for your needs.