Transitional housing, also known as sober living homes, are drug-free living environments for those attempting to abstain from drugs and alcohol long-term. The accommodation does not offer formal treatment, but it's typical they will require you to attend 12-step programs that promote sobriety.
Transitional housing has long been an essential resource for those completing residential treatment, attending outpatient programs, leaving incarceration or seeking alternatives to formal therapy.
The earliest models of transitional housing began in the 1830s and were run by religious institutions like the YMCA, YWCA, and Salvation Army. Often referred to as "dry hotels" or "lodging houses," they evolved as a means to find new ways and help people overcome their urges to drink alcohol.
Once World War II concluded, metropolitan areas began increasing in population, which also came with widespread alcohol-related problems. During this same span, the era of self-help recovery known as Alcoholics Anonymous (AA) was becoming more popular. In Los Angeles, recovering AA members opened a new step known as the 12th step. It addressed the increased need for alcohol and drug-free living environments, and managers of the houses either mandated or encouraged attendance at AA meetings to facilitate the resident's recovery. By the 1960s, Los Angeles supported several dozen houses.
The need for these types of homes continued to grow in the 1970s and continues today as the decline of affordable housing becomes an issue.
Another factor that has contributed to the rise of transitional housing for those in recovery was the deinstitutionalization of psychiatric hospitals without adequate community-based housing and the decline of residential addiction treatment programs. Homelessness is a serious issue that plagues the United States, and areas like Los Angeles struggle with the highest homeless rates in the country. With the cost of living skyrocketing and drug use following, affordable housing that provides safe environments is necessary. Conservative estimates show that nearly 40 percent of those individuals struggle with alcohol problems, and another 15 percent suffer from drug problems. Another study showed that homelessness revealed a lifetime prevalence for substance use disorders of 69.1 percent.
In 1975, the next phase of transitional housing had been formed known as an Oxford house, and it was established to be an affordable, peer-supported recovery residence. The first of these homes opened in Maryland when the founder's halfway house was shut down due to financial reasons. Since that point, these homes have been operating under the Oxford House model, and it has spread across the country. As of 2012, there was a total of 1,500 homes all over the United States. With that said, the question you may wonder is how to find transitional housing if you are in recovery? We will delve into that below.
Transitional Housing
Transitional housing is an environment for those on the path to abstinence from drugs or alcohol. These houses allow for self-growth, and for the individual to maintain recovery. Transitional housing can be found throughout the United States. Some of these sober living homes will allow their residents to stay as long as they wish, while others will impose limitations on how long someone can be there.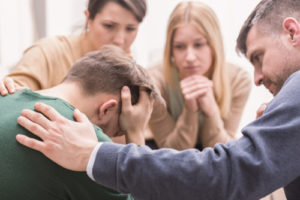 One thing to keep in mind is that state licensing agencies do not monitor these homes because they do not offer formal treatment. They may, however, be a part of coalitions or associations that ensure the programs follow specific guidelines on health, safety, quality, and adherence to a model that emphasizes 12-step group involvement.
Referrals to transitional housing will come from several different resources. A study released by the Journal of Psychoactive drugs as done on individuals that live in transitional housing, and it showed that 25 percent of residents were referred by the criminal justice system, 23 percent by family or friends, 20 percent by self-referral, and 13 percent by residential treatment programs.
Transitional housing and long-term abstinence go hand in hand according to studies, and individuals who stayed in sober living homes improved their abstinence rates at six months compared to baseline, and the abstinence rates at 12 months and 18-month follow-up points were similar to those at the six-month mark.
Transitional Housing Living Arrangements
Transitional housing is comprised of those who are in recovery and strive to maintain their abstinence. They provide a peer-supported network of people with similar experiences and goals. Each house may be structured differently, but those who live in the homes must comply with house rules, remain abstinent from all substances, attend house meetings, and complete chores. Many of the residents will work to pay their residence fees, and some homes could provide services and help the individual look for a job.
Transitional housing may also be tied to local treatment programs, and substance abuse treatment providers may provide oversight. Programs often require the residents to participate in 12-step programs, and others may strongly recommend participation. Individuals in transitional housing may also attend regular counseling and therapy sessions as well as receive treatment for medical conditions while in residence.
How To Find Transitional Housing
Those struggling with alcohol or drug use disorders will benefit greatly from living in a transitional house. The programs can be an instrumental portion in the treatment continuum where people can move between levels of care as their recovery dictates. Transitional housing is often the last step before entering back into everyday life. These homes will suggest that the person in question spends at least five nights a week in the house, but allow the person to spend a night or two at home as well. It will help ease the transition into living at home full-time and resuming daily functions.
The best resources to find a sober living home will be at treatment facilities, 12-step groups, or medical and mental health professionals. There are some other tips to take into consideration as well when choosing a transitional house. These include:
Read reviews online of the facility
Make sure you are able to afford the cost if you have to pay rent
Talk to people in your treatment program or a 12-step program for suggestions
Find a house that is located close to meetings, counseling, or therapy session locations
Make sure that you understand the rules prior to moving in
Listen to or seek out personal referrals from those who have lived, or are currently living in the transitional house to make sure it is the right for you
Not all transitional homes are accredited or licensed through a state, local, or national agency. The National Alliance for Recovery Residences (NARR) sets the standard that agencies must abide by and that individuals can use to find a house with the highest standard of care. Transitional houses boast a long track record of success, and those who reside in these houses were more likely to maintain their sobriety, stay gainfully employed, and avoid arrest. If you or someone you love is seeking out treatment or guidance, reach out to Serenity at Summit for help.
Call Serenity At Summit For Help Today
If you or a loved one is struggling with an addiction to drugs or alcohol, Serenity at Summit will help you take the first step toward recovery. Withdrawal from the drug can have grave consequences if not treated properly. Serenity offers the latest in addiction treatment, and our staff can provide care with dignity. Give one of our addiction specialists a call today 855-956-4940 or contact us online to learn more. We're here to help.