If you are struggling with addiction, one of the hardest steps in recovery is making the decision to get sober. When you decide to seek treatment, you are admitting to yourself and those around you that you have a problem you need help with. If this is you, congratulations on taking the first and biggest step toward recovery. 
Once you have made the tough decision to enter treatment, what happens next? You have to find a treatment program that meets your needs. You'll need to decide if an inpatient (residential) or outpatient setting is best. You'll need to find a program that offers services that resonate with you, such as medical assistance, various forms of therapy, and help with planning life after treatment. 
It is not always easy to find a treatment program that meets all of your needs, that accepts your insurance if you have it, that you can afford if you don't, and that has space available. Once you can access a treatment facility, your recovery journey can begin.
Every treatment facility will offer a slightly different program and have a different set of resources available, but there are standard steps in the addiction treatment process that you can expect to experience wherever you go. Read on to get an understanding of what to expect from a treatment program for yourself or a friend or family member.
Intake and Assessment
After you've completed the initial and often hardest step of seeking treatment, which is admitting you have a problem and that you want to get help, you will complete an intake and assessment process at the treatment facility that you choose to attend. Intake and assessment are important steps in treatment programs because they help treatment providers gain an understanding of your current mental and physical health and the severity of your substance use. 
The goal of most treatment programs is to provide unique care and establish an individualized treatment program that will provide you with the greatest opportunity for maintaining long-lasting sobriety. Researchers have recognized for many years the importance of beginning every treatment program with a thorough intake.
The American Society of Addiction Medicine established long ago that matching individuals with the appropriate level of care and services leads to more positive treatment outcomes. Comprehensive assessment measures improve the overall treatment process, as well as the ability for treatment providers to make informed clinical decisions about what treatment approaches would be most appropriate for the individuals they are working with. 
By completing an individual assessment of each participant when they initially enter treatment, clinicians can provide appropriate services, make well-informed treatment decisions, and take into consideration the client's preferences. When a client's preferences are accounted for, treatment outcomes improve because they are more likely to engage in the treatment process.
As you go through intake and assessment, you can express concerns and wishes that you have for treatment. Treatment plans are typically adjusted as you progress through the phases of your sobriety, but the initial assessment period provides an initial point from which treatment can begin.
Detoxification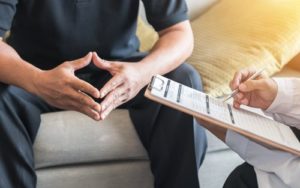 Following intake and assessment, you will enter the detox phase. This can be the most physically and emotionally challenging part of rehab, but you will have the support of mental health and medical professionals to see you safely through the process. It is important to realize that detox is only the first step in the recovery process. Detox alone does little to promote long-term abstinence from drug use, so it must be followed by therapy. 
Medically assisted detox is offered in most treatment programs. During this step, clients are actively detoxing from the addictive substance in their bodies and are likely to experience uncomfortable physical symptoms, such as nausea, headaches, and trouble sleeping. In severe cases, people can experience life-threatening seizures. Treatment professionals can monitor these symptoms and provide medications to lessen their severity. Ultimately, medical detox can make the withdrawal process safer and more comfortable. 
Researchers have even found that participants who received medically assisted detox experienced better treatment outcomes than participants of treatment programs who did not receive medical assistance. Participants who received medically assisted detox were more likely to abstain from substance use after their treatment programs ended.
Therapy
After detoxifying from the substances in your body, you will then enter the therapy phase of treatment. Therapy will likely consist of many different forms of personal exploration, such as individual and group therapy. Therapy will be the longest phase in the treatment process, and it can continue for years if you enjoy it and find it beneficial to your recovery process. Recovery is often a lifelong process, so for many people, therapy is ongoing but on a more relaxed basis. 
The National Institute on Drug Abuse (NIDA) recognizes that addiction is a complex disease and that no single treatment is best for everyone. For treatment to be effective, it must meet the individual needs of each client and be assessed and updated throughout treatment.
Forms of therapy that are most commonly used in drug addiction treatment include individual therapy, group therapy, and family or couples counseling. Specific types of therapy used for substance abuse treatment include:
Cognitive behavioral therapy (CBT)
Dialectical behavior therapy (DBT)
Motivational enhancement therapy (MET)
Motivational interviewing (MI)
Art and music therapy
Contingency management (CM)
Eye movement desensitization and reprocessing (EMDR)
Community reinforcement approach plus vouchers
The goal of participating in therapy is to recognize and understand the behaviors of past substance use and replace those behaviors with healthier ones. Therapy, no matter which form you participate in, aims to promote problem-solving skills, replace drug-using activities with more productive ones, improve interpersonal relationships, and increase the client's motivation to refrain from substance use following treatment. 
Aftercare
Aftercare is a vital piece of the treatment process. Toward the end of your treatment program,  counselors will work with you to create a plan for how to maintain your sobriety as you re-enter the community. This is a vulnerable time for people in recovery as you will be faced with triggers and opportunities to return to substance use. A solid aftercare plan recognizes potential triggers and devices coping strategies to prevent drug relapse. 
Aftercare plans are multifaceted and vary from person to person based on their unique needs and set of circumstances following treatment. Examples of elements that are often included in aftercare programs are:
Alumni programs
Support groups
Workshops 
Ongoing therapy
Sober living homes
Continued participation in 12-step programs
Yoga and meditation
Regular exercise
Healthy eating
Establishing a strong support system
The Substance Abuse and Mental Health Administration (SAMHSA) recognizes aftercare planning as an important part of maintaining long-term recovery. Aftercare plans help you set goals and outline the steps to achieve them, improve your relationships and support systems, learn and utilize positive coping strategies, identify your triggers for substance useke, and learn how to manage your time appropriately now that it will no longer revolve around substance use. 
Aftercare plans are a tool to support you in recovery. They help you stay focused on the future and keep you on the path to achieving your goals. Aftercare plans do not require that every detail of your life is planned out, and they are never set in stone. They can be adjusted over time.
Instead, they are guidelines for healthy living that you create with the help of addiction treatment counselors. Together, you are creating a framework to live by as you exit treatment and attempt to live a sober life outside of the structure of a treatment program. 
The Phases of Addiction Treatment
The phases of addiction treatment are not necessarily clearly demarcated. Sometimes, certain phases blend together, and sometimes, individuals revisit a prior phase on their path to sustained sobriety.
Mental health and addiction treatment specialists are there to help you every step of the way. From the moment you enter treatment, clinicians will conduct an intake assessment to make sure they are getting you on the most appropriate path to recovery. Following intake, you are likely to enter the detox phase, which can be uncomfortable, but it is a necessary step to sobriety.
Once you have completed detox, the world of therapy opens up to you, and your personal journey of internal exploration can begin. Therapy will see you through the rest of your treatment program and can continue for many years into your future if you choose to incorporate it into your aftercare plan. Seeking treatment for a substance use disorder can be a challenging process, but with the right motivation and support, you can achieve long-lasting sobriety.