The festive fall and winter holidays spark plans for family gatherings, comfort foods, decorations, sweater weather, and plans for New Year's. Many people look forward to making new memories while reminiscing about good times during one of the busiest holiday seasons of the year.
But for relatives in recovery who are struggling to end substance addiction, the holidays can be a stressful time filled with uncertainties. Accepting invitations to holiday events may require a second, and maybe even a third, thought. Unfortunately, for a person struggling with controlling their substance use, invites can come with pitfalls that could lead to a lapse or relapse. For many, the challenge to remain sober while still participating in family gatherings is real.
During this time or any time of year, social events can rewind the clock for people with a history of drug and/or alcohol use. They must remain aware and consider all the possibilities of what saying "yes" to a good time could mean for them.
Holidays Can Trigger Range of Emotions
End-of-the-year holidays can be an emotionally trying time. While it is a joyous season for some people, others associate it with memories of loved ones who are no longer here, a lost relationship, or a longing for the "good old days." Holidays can spark memories of a happier time or place, but such memories can also bring on sadness one can struggle to manage.
Anxiety, loneliness, and a host of other emotions are common around this time. As Psychology Today notes, "Other common triggers for holiday sadness include stress, fatigue, unrealistic expectations, and over-commercialization. Many individuals find the holidays intolerable for many reasons, especially if they suffer from 'holiday depression.'"
While mental health professionals do not officially recognize "holiday depression" as a condition, according to Psychology Today, some therapists do acknowledge that the season can intensify feelings of depression and anxiety. This can be an even hurdle to get over for people already managing a diagnosed depressive or anxiety disorder.
It is common for people with mental health disorders to self-medicate with addictive substances, either out of ignorance or willfulness. It is a harmful practice and is widely discouraged. During the holidays, it could be tempting to handle mood disorders in this way, especially for people who are new to recovery but still relearning how to replace negative habits with healthier ones that benefit their well-being.
Thankfully, there are things they can do to help them stay on the course to sobriety.
Helping a Family Member Who Is Working to Overcome Addiction
If you have a relative who is either struggling with addiction or is new to recovery, you realize how challenging this time can be, and you may be wondering what you can do to help.
Right now, your family member needs support and encouragement, and they likely also need to be around people who love them. "Social isolation is one of the biggest predictors of depression, especially during the holidays," Healthline reports. "People who have feelings of disconnectedness often avoid social interactions at holiday time. Unfortunately, withdrawing often makes the feelings of loneliness and symptoms of depression worse," it says.
Increased loneliness can lead to a dark path that involves abusing drugs and alcohol for people fighting to leave this kind of life behind. Encourage your loved one to be around people and include them in a way that is comfortable for them. Connecting with others is very important for a person who is struggling with addiction.
You can anticipate their needs by first realizing that the holiday season is filled with triggers that require some creative planning to work around and manage.
Here Are Some Things You Can Do:
Talk to your relative about their triggers. Social events, especially ones held during the holidays, can bring on cravings for addictive substances to deal with triggering situations that lead to unpleasant thoughts or emotions. You can discuss the acronym HALT, which stands for hungry, angry, lonely, and tired, with your relative to see if these are triggers they have experienced before their decision to drink or use drugs. You can also ask your loved one about personal triggers that HALT does not cover.
You may discover a certain holiday song or a specific dish may bring unpleasant feelings or memories. Maybe they will tell you they need to break periodically to center themselves after a few hours of socializing or that they feel tired around a certain time and may need to retire from the festivities so that they can go home and relax. The goal is to anticipate your loved one's needs so that you can help them and others have a good time.
If your relative is going to an event where drinking will take place, they could take nonalcoholic drinks with them or eat healthy snacks or small meals before going out. This can help them manage stress and stay alert and aware of what is going on around them.
Be your loved one's accountability buddy: If you and your relative are going out for the holidays, whether to an event or a loved one's house, offer to be an accountability partner so you can help them figure out what they can do to take care of themselves if the holiday hustle and bustle become too much.
It is important for your loved one to know they have someone they can trust who has their best interest in mind at all times. Such a person can help a loved one in recovery focus on their intentions in the present moment. It may give them some peace of mind to know they can give an agreed-upon signal when a situation is becoming uncomfortable for them so they can leave.
For example, you can pull your relative away from people who may be pressuring them to drink or do drugs. You can help them find a graceful way to change the conversation or pull them away to talk to someone else. You can also find a way to just to usher them out of the event and away from temptation that threatens to derail the progress they have made.
Help them establish an "escape" plan: In keeping with the last point, self-care for your relative may mean creating a strategy that can give them the boost they need to remove themselves from a situation that is not right for them.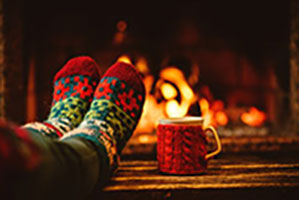 If you are not sure how to create an "escape plan," be sure to first ask your relative what they would be comfortable with doing if a situation gets uncomfortable and what you can do to help. You can work with them in setting up some ground rules before going into the situation at hand. These can address things such as how long your loved one wants to stay and what activities they will (or won't) take part in. For example, they may want to establish a boundary of knowing when it is time to leave, such as when the party becomes more lively.
If you cannot accompany your relative to an event, you can let them know that you will be on standby via telephone, text message, instant message, or another form of communication so that they can call and check in with you if needed.
You can assure them that you are around to help them think through situations they may face, such as when they feel stressed or anxious. Listen intently so that you can encourage them to take the next step that is best for them. You could be the voice of reason that helps them find their way out of a situation, shutting down any possibility of relapse that could result.
Additional Tips for Being Supportive During the Holidays
These are just a few ways to help relatives who are struggling with substance addiction during the holidays. Other things you can do to help them eliminate the holiday blues are:
Help your loved one find ways to minimize stress as much as possible. Busy events can stress anyone and bring on anxiety. For a person with a substance use disorder or a person recovering from one, these negative emotions can be overwhelming and lead them back to using substances. "Science has taught us that stress, cues linked to the drug experience (such as people, places, things, and moods), and exposure to drugs are the most common triggers for relapse," says the National Institute on Drug Abuse (NIDA). If your loved one is feeling stressed, encourage them to take a breather and figure out why. Reflecting on this could keep them from making a mistake they may later regret.
Locate sober events for them to attend. You can do an online search or seek out community resources that find support happenings that are sensitive to the needs of people in recovery or those who are trying to avoid substance use. These events can help them have fun without using or abusing substances. If you can't find substance use-free events, plan and hold one of your own and invite your relative and any friends they have who could also enjoy a recovery-friendly environment. You could even ask them to help or offer to help them plan the event. This way, they will know for sure that they will have a good time.
Encourage your loved one to say no. Explain to them that sometimes, there will be no easy way to attend an event and stay true to their new life at the same time. In times like these, it is critical that a person who is moving on from addiction remember their goals, their reason for leaving addiction behind. Help them find other activities and events that can help them stay committed to what they are doing and remain true to them.
Are You or a Family Member Struggling With Addiction?
Then you should call us right away. Serenity at Summit wants every prospective client to understand who we are and how we treat addiction at our facility, where we always put our clients and their needs first. Call us today so that we can learn more about how we can help you or your loved one's sobriety.