New York City is a vibrant city teeming with an international population. Its many boroughs bring culture, history, and flavor to be appreciated by those who reside there. However, along with the benefits of having a diverse range of people, the city also has significant drug abuse problems.
As the United States continues to increase drug enforcement and strengthen laws, the drug supply has not been reduced. New York City is an area that has both poverty and wealth. It is also an area with a drug entry point, with the Atlantic Ocean on its east side, and the waterways that lead into the city.
Opioid abuse remains a public health issue from the great number of overdose deaths it causes. Fentanyl is a very potent drug that can be deadly. It is one of the top drugs city law enforcement and first responders have to contend with.
The National Institute on Drug Abuse reports there were more than 3,000 deaths to opioids in the state in 2017. The most significant rise in drug-related overdose fatalities occurs from the use of synthetic opioids (primarily fentanyl) with 2,238 deaths. Heroin-related deaths and prescription opioid overdoses also rose.
Fortunately, several top-rated drug rehab centers are near New York City, where people who are battling with drug addiction can get help. One phone call to be connected to someone who can relate and assist in finding the best treatment center.
New York City Drug Rehab Statistics
Someone dies from a drug overdose every seven hours in New York City.
Drug overdose deaths outnumbered deaths by suicide, homicide, or vehicle crashes.
Fentanyl was involved in about half of the overdose deaths.
Opioids accounted for more than 80 percent of all overdose deaths.
Source: City of New York, Provisional Overdose Report, Second Quarter 2019
Most Commonly Abused Substances
Most cities have reported that the most abused drugs are opioids, fentanyl, and cocaine. New York City is no different.
Cocaine
Cannabis
Heroin
Alprazolam
Oxycodone
Fentanyl
Alcohol
New York City Drug Rehab History and Rankings
Addiction treatment is effective for people who have opioid use disorder and can reduce the risk of a fatal overdose. 
There are many licensed drug rehab centers in the city and near the city. Serenity at Summit is about one hour away from the city center. The city has several strong drug abuse programs that are evidence and science-backed, such as HealingNYC.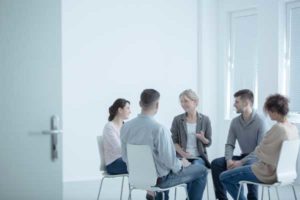 Quick Treatment Facts
The National Institute on Drug Abuse explains that addiction treatment needs to be readily available, tend to all the needs of the patient, (not just the substance use), and the individual needs to stay in treatment for at least 90 days for it to be effective. Recovery from substance use is a long-term process. 
Relapsing is common, but it's not a sign of failure. A relapse is a sign that treatment needs to change so the individual can learn how to handle life and its pressure without substance use.
When an individual enters drug rehab, the center they are going to should offer the continuum of care, as written by the American Society of Addiction Medicine.
Addiction comes with consequences, and when you or someone you love is struggling with the disease of addiction, treatment should address all needs to ensure a life free from substance use.