If you are a single mother dealing with addiction, treatment is necessary — both for your sake and for the sake of your children. While single motherhood adds challenges to the recovery process, many drug rehab programs are available to make it all easier.
The Need for Treatment
Single motherhood is rewarding, but it is not easy to manage the costs of running a family on your own. Working enough to pay the bills often means paying for childcare and after-school care or leaning heavily on family members for assistance. The stress of keeping everything going can be intense, and many mothers turn to pills, wine, or other substances to escape emotionally. 
Use of substances as a coping mechanism can cause even more problems. Relationships may falter, your child's well-being may be deprioritized, money drains even faster, and some mothers may face losing their children as a result of their substance abuse. With all the financial drains that can come with a high cost of substances, job loss, frivolous spending, and court fees over children and divorce, it can be difficult to justify the cost of addiction treatment. 
The fact is, however, that when a single mother is facing a substance use disorder, refusing treatment is the quickest way for everything to fall apart. If you are ready to enroll in a drug rehab that will improve both your life and the life of your family, here is what you need to know.
What Should I Be Aware Of as a Single Mother Before Treatment?
Entering treatment takes planning and preparation, so the sooner you start to lay the groundwork, the sooner you can truly start your new life in recovery. To protect yourself, your children, your finances, and your job, if applicable, it is a good idea to focus on information gathering as a first step. You can:
Research the drug rehab programs that will allow you to bring your baby with you if your child is very young.
Identify people in your life who are willing to help out with your kids while you are gone.
Look for outpatient drug rehab programs that may make it easier for you to help care for your children during the recovery process.
Explore different inpatient treatment programs that are close enough to allow for regular visits from your kids.
Confirm that all the drug rehab programs on your short list include parenting support, family therapy, assistance with legal issues regarding child custody if needed, and support for your kids if they are old enough to work with a therapist to better understand addiction.
Check into your insurance options and find out what is covered, what isn't, and the copay or out-of-pocket costs you can expect.
Talk to relatives who may be interested in helping you out financially during your detox and addiction treatment program.
The more information you have, the better you'll be able to find the right program for your needs and make sure that your time spent away from your kids and your job is as productive as possible.
How Can I Make Sure My Children Are Taken Care Of?
Take a look at the people who are in your life. Who shows up for you? Who has asked to help out with the kids? Who has encouraged you to go to rehab and get treatment?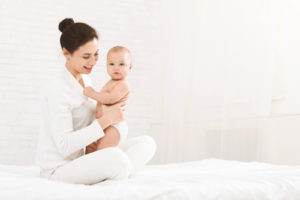 Even if you are not on the best of terms with a family member who you feel may have been intrusive or aggressive in their efforts to get you to enroll in drug rehab, consider what is best for your kids.
Is this person a solid caregiver? Are they dependable and trustworthy? Will your kids be safe with them and supported in what they need?
Remember that you are not making a choice that will last forever. It is only for a brief time while you get help to become a more proactive and healthier parent for your kids.
Remember that you do not necessarily have to find one person to do all the heavy lifting while you are gone. You may find one person to drive the kids to school while someone else can pick them up or meet them at the bus.
Another may be available to provide childcare, while someone else may be able to bring meals and stay with the kids at night if you are in an inpatient program.
Use your resources, ask around, and if you need help putting it all together on top of everything you are trying to manage, ask someone you trust to assist you.
Are There Assistance Programs Available To Help?
Depending on where you live, the communities you take part in, and your family's resources and community, there will always be places to look for help. Some options to consider and explore include: 
YOUR CHURCH COMMUNITY
Even if you have not attended in a while due to active addiction, if your family has been taking your kids or if you attended when you were younger, it can be a good place to start. Find out what resources are available and ask about how to apply for assistance.
YOUR JOB
Talk to human resources or your manager to find out what is available to you if you need treatment for a chronic medical condition like addiction. There may be funds to access, an employee assistance program, concerned coworkers who may be able to help or support you, or at least the promise that your job will still be there for you when you get back.
YOUR FAMILY
If your family has the resources and respects your choice to enter drug rehab, they may be willing to support you via a loan or financial gift. Make sure that any money received from family has a contract attached to it that makes it clear whether it is a gift or a loan, the parameters of payback if applicable, and what is expected of you in terms of compliance with the drug rehab program and your sobriety. When it comes to money, it is always a good idea to make sure that everyone is on the same page.
LOCAL RESOURCES
Local nonprofit organizations designed to support women, mothers, or families in crisis due to addiction may be able to offer support of some kind or connect you with programs that can. Remember to consider both government programs and nonprofits that cater to you specifically, such as woman-focused organizations, organizations for children and families, and organizations that help those struggling with addiction.
Where Should I Start Looking For Payment Assistance First?
Almost every drug rehab program will offer you the option of taking advantage of payment plans. Many will also be able to connect you with a loan program or institution that can provide you with the funds you need for rehab up front, allowing you to pay it off as you grow stronger in recovery and are better equipped to function in the workplace. 
If you have a short list of drug rehab programs that you think might work for you and your child, call each one and ask them if they take your insurance, what financial assistance programs they might have, and if they have payment options and plans for support. Make a note of what each one says and prioritize this as a part of your process in choosing the best possible treatment program for your needs. 
What Should I Avoid As I Try To Take Care of My Family by Going to Treatment?
It is not easy to stand in the middle of addiction with the pressures of single motherhood, and everything that goes along with it, and turn your full attention to finding the right drug rehab program. Here are a few things to help you avoid feeling overwhelmed: 
DO NOT CHOOSE THE FIRST PROGRAM THAT PRESENTS ITSELF
It can be tempting to jump into whatever appears first, but if it does not have the resources you need to heal or will not be effective for another reason, it will only waste your time and money.
AVOID JUSTIFYING A HUGE EXPENSE YOU CANNOT AFFORD
Very expensive rehab programs abound. They look beautiful, boast amazing services, and sport a price tag for a single month that may be about what you make in a year. These luxury programs may not be worth the huge hit to your family finances, but if a large chunk of the cost can be offset by insurance, it might be feasible. Discuss your options with staff members.
DON'T LET COST TAKE OVER YOUR DECISION-MAKING PROCESS
On the other hand, avoid choosing your program based on what is the most inexpensive. These treatment programs may be overcrowded, understaffed, under-resourced, and plagued by problems. Investigate first.
DON'T GIVE UP
Do not stop your search until you find a drug rehab program that will work for you and your family. As a single mother, your efforts can change your life and the lives of your kids.