If you search the internet for information about preparing to be a mother in recovery, you will find more information than you might want to read. Adding to the challenge is the myriad of opinions, suggestions, and recommendations others have posted or published, and knowing which ones are the most trustworthy.
Mothers-to-be who need addiction recovery will find less to read on the worldwide web. However, that does mean that what you want to know is not available. It is also understood that many women struggling with substance use and expecting a baby could deal with society's stigma and discrimination against them. This is just not fair or right.
Other difficulties a mother in recovery might have to contend with are their financial situation, location of addiction treatment centers, care for other children at home, and their family situation.
If you are an expectant mom who needs substance use recovery during pregnancy, we provide guidelines and advice while preparing to be a mom in recovery.
What Does Being in Recovery Mean?
Being in recovery means different things to different people. A person who has completed formal substance use treatment at an accredited addiction treatment center may think they are in recovery when they "graduate" and rejoin life outside of the center.
Someone else might consider being in recovery as continuing with 12-step programs or programs like them. Still, there are some who think that being in recovery is when they are no longer dependent on the substance(s) they were using.
While there is no standardized definition for being in recovery in addiction treatment, the Substance Abuse and Mental Health Administration (SAMHSA) developed a working definition of it. Recovery is "a process of change through which people improve their health and wellness, live self-directed lives, and strive to reach their full potential."
SAMHSA indicates there are four dimensions to recovery:
Health: To overcome or manage your disease of addiction or symptoms and make healthy, informed choices that support your emotional and physical well-being.
Home: Making and having a stable and safe place to live
Purpose: Participate in meaningful daily activities and have the income, resources, and independence in which to enjoy them.
Community: Building and having social networks that give support, provide friendship, offer love and hope.
When you are preparing to be a mom in recovery, these dimensions are much needed.
Stages in the Recovery Period
Preparing to be a mother in recovery means the expectant woman may work through these five stages before, during, and after substance use treatment:
Awareness. You are aware that something needs to be done to end your substance use. You may still be using drugs or alcohol while pregnant but know that you need to stop for the health of yourself and your fetus, and you are willing to make the change.
Consideration. You move away from being in denial about your substance use and take action to end it. You are probably very much aware of how substance use is affecting everyone close to you. The consideration stage entails gaining insights about yourself and the effects your addiction has on everyone else—including your baby.
Exploration. Exploration is the stage where you learn about the recovery process and what is involved in living a substance-free life. You take action and research the best possible treatment options and perhaps speak with your health care providers about how to stop using substances. At this stage, you feel ready to enter addiction treatment.
Early Recovery. You have ended your substance use and are committed to making positive changes. You may be learning new coping techniques to deal with the challenges in your life, including how to be a mother in recovery without using drugs or alcohol. You are learning how to handle negative emotions, seeing what your triggers are and how to manage them now, and how to deal with cravings for your substance(s).
Commitment to Live Sober. You have made a long-term commitment to sobriety and are learning how to live sober and have a substance-free life in which you thrive.
Recovery can be hard work, but so is motherhood. When you learn how to handle the challenges of everyday life while having a new baby, with all that entails without drugs or alcohol, you are on your way to a physically and mentally healthy life. This way of living is valuable for both you and your baby.
Pregnancy and Substance Abuse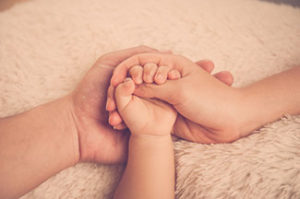 Most women know that substance use when pregnant is dangerous for their baby. However, addiction can overrule common sense. Addiction is defined as a chronic disease that affects the reward center of the brain. Regular use of alcohol or drugs changes how the brain's reward center works. Substance use when pregnant is harmful to the growing fetus.
When you consume alcohol or take drugs, the substances pass through the placenta and into the baby. The risk of delivering a stillborn baby double or triple, according to the National Institute on Drug Abuse (NIDA). They also state that some drugs can cause an infant to have neonatal abstinence syndrome (NAS). This is a disorder in which the infant experiences withdrawal symptoms from the drugs the mother has taken. Common substances associated with NAS include:
Opioids
Depressants
Benzodiazepines
Barbiturates
Caffeine
Nicotine
Marijuana
Steps You Can Take Now
Here are some smart steps to take now to help you prepare to be a mother in recovery:
Support: Ask your obstetrician if there are support groups and/or addiction treatment programs for pregnant women and substance use. If you do not feel sure of asking, conduct an online search for one near you. Once you find a group you feel comfortable in, keep attending the meetings.
Commit to Living Healthy: If you haven't started yet, begin committing to living healthier. Exercise when you can because it is good for you and the baby. Eat healthier meals and snacks; you can even prepare them ahead of time. Get plenty of sleep.
Join a Parenting Education Class: Parenting classes are not only useful before the baby arrives, but even more, once the baby arrives. Listen and learn from other parents how to manage being a parent.
Take It One Day at a Time: When you are preparing to be a mother in recovery, it is essential to each day one at a time. Each day brings a new beginning, new challenges, stresses, and possibilities to manage being a parent living substance-free.
Ask for Help When You Need It: If you feel drug or alcohol cravings, call your sponsor or your recovery coach. Lean on them for support. If you feel overwhelmed at home, reach out, and ask family and friends if they can pitch in.
Treatment Options for Mothers in Recovery
Motherhood can be exhausting and exhilarating at the same time. It comes with distractions, challenges, and changes every day. You don't have to handle all of it with alcohol or drugs. Serenity at Summit has treatment options for you that are evidence-based and will get you back to your pre-substance self.Preparing to be a mom in recovery means taking care of yourself and the new life you are nurturing. Don't let substance use destroy your life or your infant's. Everything you eat, drink, and inhale, your baby eats, drinks, and inhales. You can end that today.