Brooklyn is known around the world. It is the most populated borough of New York City, and it deals with high rates of substance abuse.
Overdose and Drug-Related Emergency Visits
Although Brooklyn belongs to one of the most populous counties in the New York City area, it has one of the lowest rates of fatal drug overdoses.
As of 2015, Kings County, to which Brooklyn belongs, had an overdose death rate of 8.3 deaths per 100,000 people. The New York City region as a whole had an overdose death rate of 9.3 deaths per 100,000. The state had an overdose death rate of 12.1 deaths per 100,000 people.
The rate of overall substance abuse in Brooklyn causes hundreds of people to end up in the emergency room every year.
Between 2012 and 2014, the rate of outpatient emergency department visits involving any drug-related overdose among people 18 to 24 years old was 96.8 visits per 100,000 people. This number is lower than the New York City region average of 119.7 visits per 100,000 people, however, and the statewide average of 195.5 visits per 100,000 people.
Most Commonly Abused Drugs in Brooklyn
According to data provided by the NYC Office of the Chief Medical Examiner, residents of Brooklyn abuse many different drugs.
Substances that were involved in drug overdose deaths of Brooklyn residents in 2017 include:
Alcohol at 43 percent
Benzodiazepines at 27 percent
Cocaine at 48 percent
Fentanyl at 54 percent
Heroin at 51 percent
As evidenced above, many people who die of overdose have multiple substances in their systems.
In total, 359 Brooklyn residents died of a drug overdose in 2017 at a rate of 17 deaths per 100,000 people.
Brooklyn had the third highest rate of overdose deaths among New York City's five boroughs in 2017. The fewest number of overdose deaths among Brooklyn residents was seen in those 15 to 24 years old, while those 55 to 64 years old had the highest rates of overdose deaths.
White Brooklyn residents had the largest number of overdose deaths, followed by black residents and then Latino residents.
New York and the Opioid Overdose Epidemic
The opioid overdose epidemic that has spread across the country over the past two decades is no stranger to New York. Overdose death rates are worse in the state of New York than across the United States.
In 2016, the death rate of opioid-related overdoses in New York was 15.1 deaths per 100,000 people compared to the national rate of 13.1 deaths per 100,000 people.
Since 2009, residents of New York have seen a twofold increase in the number of fatal overdoses caused by prescription opioids. Fatal heroin overdoses also more than doubled, while the number of deaths attributed to synthetic fentanyl use increased tenfold between 2012 and 2016.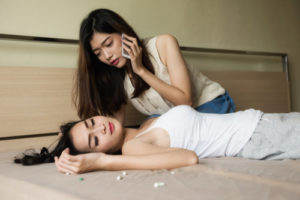 The increase in synthetic opioid-related overdoses is mainly due to a rise in fentanyl consumption.
Fentanyl is a synthetic opioid that is 50 to 100 times more potent than morphine. Many illicit manufacturers of synthetic opioids and other drugs mix fentanyl into their products to make them more potent and to stretch the batch so that they can make a larger profit.
According to the  US Centers for Disease Control and Prevention (CDC), illicitly manufactured fentanyl is the main cause of the recent increase in synthetic opioid-related deaths around the country. Across the U.S., there was a 264 percent increase in these deaths between 2012 and 2015.
Illicitly manufactured fentanyl is often mixed with heroin, cocaine, or pressed prescription pills, often without the user knowing. Despite the rate of prescriptions being written for opioids declining, the number of fatal overdoses continues to rise in New York and throughout the United States.
Substance Use Among Youth in Brooklyn
Based on 2015 data collected by the New York City Youth Risk Behavior Survey, a percentage of youth throughout New York City experiment with various substances on a regular basis, though it might be to a lower degree than you would expect.
The reported rate of lifetime drug use for youth living in Brooklyn:
Any illicit drug: 8.5 percent
Cocaine: 3.3 percent
Heroin: 2.1 percent
Ecstasy: 4.1 percent
Synthetic marijuana: 5.1 percent
Throughout New York City, 15.9 percent of youth reported using marijuana within the last 30 days compared to 19.3 percent of youth in New York State and 21.7 percent of youth across the country.
When asked about prescription drug misuse, 9.5 percent of youth in New York City reported misusing prescription drugs of any kind in the past year. Seven percent of youth reported misusing opioids.
When asked about their current drinking habits, 20.9 percent of youth reported using alcohol in the past 30 days, a number that was down by over 15 percent since the previous year. Over 32 percent of youth in the U.S. reported current alcohol use, which was down six percent of the prior year.
New York City's Efforts to Reduce Drug Use
The City of New York has established a range of drug and alcohol use services to combat the increasing rates of substance use disorder and overdoses that are occurring throughout all of its five boroughs. The city offers many different free and low-cost services for people affected by drug and alcohol problems.
Services Related to Substance Abuse That Are Available to the Community Include:
Harm reduction services: Easily accessible and anonymous services are offered to active drugs users who may be able to quit using drugs at this time but are interested in recovery and reducing the harms and health risks associated with drug use
Syringe access and disposal: Access to clean drug use and safe disposal locations are provided to reduce the spread of HIV and other blood-borne diseases and prevent health complications caused by using unsterilized injection tools
Overdose prevention: Drug poisoning, the leading cause of injury death in NYC and the U.S., is addressed through increased access to and the expansion of naloxone treatment services throughout the city
Peer-based services: Individuals with personal experience of substance abuse work with others throughout the community to improve the quality of life of substance users who are trying to get sober
Medication-assisted treatment for opioid use disorders: Specific treatment, including the use of medications and behavioral therapy, is offered to people struggling with opioid use disorders
Outpatient treatment: Affordable and accessible outpatient treatment centers are located throughout NYC for individuals who wish to schedule treatment appointments around work or childcare responsibilities
Inpatient or residential treatment: A safe and supportive living environment is provided to individuals as they receive intensive drug treatment and social and behavioral support related to drug and alcohol use.
Brooklyn Treatment Centers
Whether you are interested in outpatient, residential, short-term, or long-term treatment programs, Brooklyn offers a wide range of addiction treatment facilities.
A sample of treatment resources located in Brooklyn includes:
Phoenix House New York. This nonprofit organization offers substance and alcohol abuse services to individuals and their families through residential and outpatient treatment programs
New York Therapeutic Communities. This not-for-profit corporation provides substance abuse treatment and associated services to encourage lives free of crime and drugs
Start Treatment and Recovery Centers. This non-profit organization is certified by the New York State Office of Alcoholism and Substance Abuse Services. Holistic outpatient services and programs are offered to people seeking drug addiction and rehabilitation services, including medical care, specialized HIV services, behavioral and vocational services, and medical case management.
Finding Substance Abuse Help in New York
If you are looking for substance use treatment in Brooklyn or anywhere in New York, the state has provided its residents with a Substance Abuse Treatment Locator. This free and anonymous service helps you to find state-certified outpatient and residential programs in your area.
An additional resource available for New York City residents is NYC Well, an online chat service that includes phone and text lines. Available around the clock and in over 200 languages, NYC Well offers free and confidential crisis counseling, peer support, and referral services for issues surrounding substance abuse and mental health.