Recovery Testimonials and Expressions of Gratitude
Making a Difference in Every Life We Touch
Here at Serenity at Summit, we strive to provide a caring, and soothing environment for you to detox from drugs and alcohol at the pace that works best for you. We personalize each program to you and your specific addictions by working with you and your family as well as strategizing an on-going treatment plan that will ensure your path to lifelong sobriety.
We maintain the highest levels of professionalism and standards of care from the moment we speak to you on the phone to the day you begin your new life in sobriety and onto the years that follow. Below are some experiences and letters of gratitude from previous clients and their families.
---
"I had to take a moment to write you (and this applies to every single one of you!) I cannot thank you enough for the genuine, loving care I received from day one. You were the warmest, hardest working, calming, and wonderful staff I have ever had taking care of me; and trust me, I have been to many facilities in the past year (4!). Please know the comfort you made my stay, how incredibly grateful I am, and I will forever remember you. Thank you! Thank you! I wish you nothing but success as you grow!"
— Sincerely, Lauren S. Sept. 2014 P.S. It is the most beautiful place I have been by far!
---
"My stay at Serenity was good due to the overall staff. They are kind, approachable, and sympathetic to the detoxing individual and the groups and activities throughout the day are a good way to keep busy. The detox protocol is good because I thought I'd be a lot sicker at the end of it. Another really good thing is that Serenity will work with individuals about payment for those who can't afford it. In my case it got taken care of with scholarship which is what I really needed. Lastly my counselor Duane was good in finding me an In-Patient Aftercare where the billing was covered. I don't think I would have been able to afford to go anywhere without help, so the Serenity staff was good at that."
-Anonymous
---
"Since I arrived at Serenity at Summit I have had a great experience. The techs have shown nothing but mutual respect and have a wonderful understanding to our situation. The nurses take great care of you as well by showing you individual care and are there for your every need. They don't force you to do anything that you don't want to and they offer great holistic services which help you during your detox to kind of quicken up and ease the process. I had a great time here and would definitely recommend it to anyone that is looking for help."
-Anonymous
---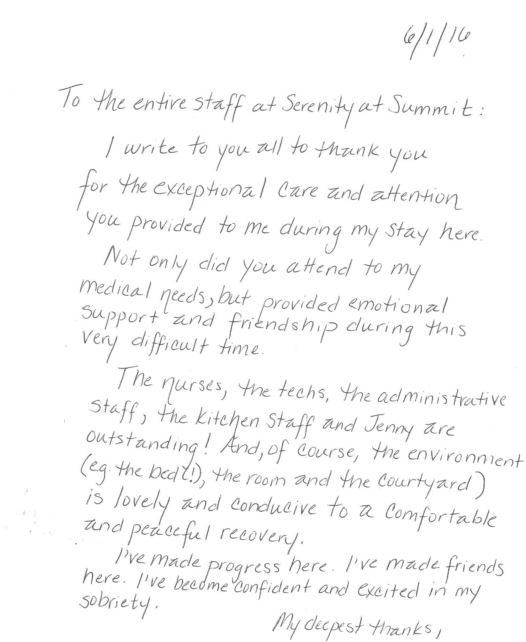 "I arrived at Serenity broken and felt rather helpless. My plan was to stay at detox for five days, get cleaned up and go back to my old way of life. As I got deeper into my stay, I realized that there was a better way of life. I met numerous clinicians and techs who guided me toward a better way of thinking. I am continuing my treatment at a 30-60 day rehabilitation facility as a result of suggestions from Serenity staff. I feel grateful to have found Serenity as a detox program. The facilities are clean and the staff is more empathetic than other detox's I have been exposed to. Additionally, the holistic experiences at the detox facility were totally unexpected. I have never experienced massage, acupuncture, or Reiki at a detox. Overall this experience was more than I had hoped for."
-Anonymous
---
"My stay at Serenity has been amazing. The counselors and techs have been amazing in making sure I'm okay and have everything I need. The bedrooms and day rooms are beautiful and very comfy, making you feel like you are home. I got a lot out of group, talking with everyone really helped me. The activities here helped me relax and I really enjoyed my stay. It seems like everyone here really cares."
—G.E.
---
"My name is George Lambert, I am an addict. I have been abusing drugs and alcohol for many years, for so many my body doesn't know anything else. My family has given up on me because I gave up on myself. I went on the web and typed in addict and Serenity at Summit popped up. I clicked on it and read so many good things it made me want to call. When I did the girl on the other line talked to me and made me feel like I was a person and she helped me through the process of getting here. Once I arrived from the second I entered Serenity they made me feel great. I've been here 5 days now and I have no regrets about choosing to be treated at Serenity. From the nursing staff down to the techs that help out so much, they made my stay comfortable and serene. I would help another person with addiction by telling them about Serenity and the great place that it is."
—George Lambert
---
"Having the willingness to enter a program to address my substance was not an easy decision to make. Being honest with myself, recognizing how my life has become unmanageable led me to treatment, here at Serenity. During my stay all of the staff created a safe environment to open up to talk about my struggles with my drinking and to look at solutions that I will to the best of my ability utilize for long term recovery. There have been times when staff confronted me with some harsh realities which were hard to hear, but ultimately together we reached components. I've been in many treatment facilities and would recommend Serenity for anyone seeking help in their addiction."
-Anonymous
---
"My experience here at Serenity, being a first time client at a detox, was very intellectual and comforting. I felt I could be myself and more. The staff are very sweet and patient, but also put the jokes aside to show us that even though we have a lot of fun here, the importance of our journey to recovery is what matters most and it has been a great learning and educational experience. I have every desire now to stay clean and find my true self again. I found from having groups, sitting through the AA meetings, and having the activities of doing stress relieving yoga, meditation, etc., which is all provided here at Serenity, really helped me build a strong mindset to having a successful recovery. Not only did they provide all of those things, it is also a beautiful place to be. Thank you!"
-Anonymous