While coverage differs from plan to plan and state to state, Blue Cross Blue Shield provides coverage for some level of drug addiction treatment.
BCBS and Addiction Treatment
The global health care company Blue Cross Blue Shield (BCBS) provides health insurance coverage to over 100 million members throughout all 50 states and Puerto Rico. The Blue Cross Blue Shield Association (BCBSA) manages and oversees more than 30 community-based, locally operated, and independent BCBS providers as one of the largest health insurance companies in America.
BCBS offers a wide range of health insurance coverage and differing plans.
Many plans cover drug rehabilitation, and coverage depends on where you live and the plan you choose or have chosen.  Coverage options and plans vary by state.
The Affordable Care Act (ACA) deems mental health treatment, behavioral health services, and treatment for substance abuse as essential health benefits. All BCBS plans offer these benefits.
Levels of Coverage
An average BCBS plan costs around $450 a month for individual single-person coverage and close to $1,200 a month for family coverage. Group health insurance plans often offered through an employer, may average out to slightly higher — closer to $600 a month for an individual and over $1,600 for families. These are general costs, and personal plans can differ substantially.
There is a lot of variety in health insurance coverage depending on location, plans offered, and providers. BCBS offers what are called "metal tiers," ranging from bronze all the way up to platinum.
Bronze: 
Coverage is provided at 60 percent, which means that you will be responsible for the remaining 40 percent of the costs after your deductible is met. You will pay lower monthly premiums and have higher deductibles and out-of-pocket expenses.
Silver:
Coverage is provided at 70 percent, and you will be responsible for the remaining 30 percent after your deductible is met. Most people buy this type of plan.
Gold:
Coverage is provided at 80 percent, and you are responsible for covering the remaining 20 percent after your deductible is reached. Monthly premiums are high, but deductibles are low, and so are out-of-pocket costs.
Platinum:
These plans are not offered in all areas, but they can provide the highest level of coverage at 90 percent, leaving you with only 10 percent of the costs to pay on your own after your low deductible is met. Monthly premiums are the highest for these plans.
Again, coverage ranges depending on where you live and what options are open to you in that area. A local Blue Cross Blue Shield representative can walk you through your coverage options and specific plan information to help you better understand associated costs, expenses, and covered services.
How Blue Cross Blue Shield Coverage Works for Drug Rehab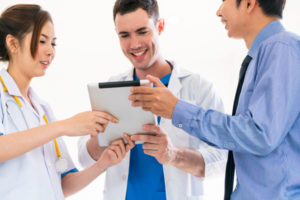 To use private insurance such as Blue Cross Blue Shield to pay for drug rehabilitation, you will often need prior authorization or preapproval from your provider before seeking services. You may need a referral from your primary care provider, and services commonly need to be deemed "medically necessary." This is dependent on your specific plan, however, and every plan works a little differently.
Some plans may require you to use a provider that is considered "in-network" while other plans may allow you to seek drug rehabilitation services from an out-of-network provider for additional out-of-pocket costs.
Commonly, providers will have relationships with insurance companies to offer services for a discounted rate if you go through them.
Contact your insurance provider directly for more information on exactly what your plan covers and at what rate. It is helpful to know your out-of-pocket costs ahead of time, so that you can budget accordingly.
The Cost of Addiction
Addiction can be a costly disease, but treatment can save money in the long run. The National Institute on Drug Abuse (NIDA) reports that drug addiction treatment can have a cost-savings ratio of 12 to 1 when considering health care costs, legal fees, expenses due to lost workplace production, and criminal justice costs.
What Services Might Insurance Cover?
Health Insurance Can Help To Cover Some of the Costs of These Addiction Treatment Services:
Individual and group counseling
Behavioral therapies
Medication management
Treatment for co-occurring mental health and medical issues
Life skills, relapse prevention, and educational workshops
Drug rehab can be provided on an inpatient or outpatient basis, and coverage for each is dependent on your specific BCBS plan.
Insurance coverage will often cover the costs of certain services at a specified rate and potential for a specific number of days or maximum dollar amount. Some services may incur additional fees that you will be responsible for paying.
Parity laws ensure that mental health and substance abuse treatment is provided at the same level as other surgical and medical services. The ACA includes mental health and substance abuse as behavioral health care services that must be covered under federally regulated insurance plans.
Get The Information You Need
A Blue Cross Blue Shield representative, as well as trained staff members at drug rehabilitation centers, can walk you through your insurance coverage. This will ensure you get the most out of your coverage.
Make sure all your questions are answered prior to enrolling in treatment to protect you from surprise expenses down the road.