Oh, no, another boring instructional guide. If sometimes you feel that way about guides you're in luck – we're going to make this informative as well as enjoyable. We know that there are reviews to be left all over the internet, and you may have wanted to give your input, but perhaps you were unable to do so. We want to provide you with the ability to leave reviews by teaching you the principles of review leaving. Below we will include instructions as well as the proper etiquette required when leaving reviews. We will go over Facebook, Yelp, and Google reviews. You are a few minutes away from mastering the art of leaving reviews on the internet.
First, let's get started and show you just how simple it is to leave a review for Yelp.
Yelp
Knowing how to leave reviews on Yelp is a powerful tool. To do so, you must visit the Yelp website by entering in www.yelp.com into your browser. Once you reach the homepage, you will notice a button in the top right-hand corner that asks you to "Sign Up." Select this text by clicking on it and create your Yelp account.

After you have selected the "Sign Up" text, you will be sent over to a new page. There will be an area that asks you to input your name, email address, and password. Enter this information and then select the "Sign Up" button.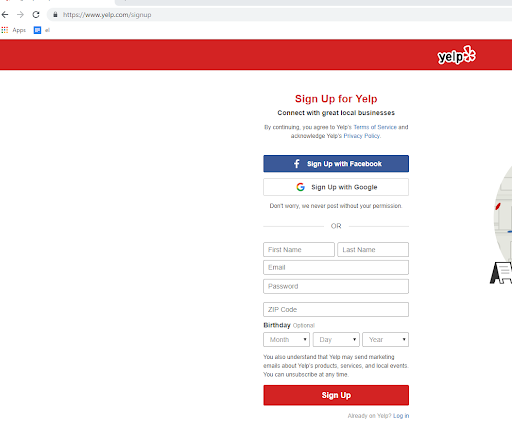 When you finish this step, there will be an email sent from Yelp that requires confirmation. When doing this, make sure there are no errors during this process. Once completed, you will be given access to the review section. In the top center part of the screen, you will notice a tab that asks you to "Write Review." Click on this, and you will be sent over to another page. Once you make it to this point, you can search for the business you would like to review.

Once you reach this point, choose the establishment and start writing. Make sure that you include the number of stars
Let's move on to the next step!
Facebook
Facebook is the most prominent social media channel on the internet, and reviews here are essential. We have never had access to a business in a way that Facebook has given us. The interactions allow owners or managers to implement new policies that YOU, the consumer, suggest. In a sea of words, your opinion matters. You must join facebook, and to do so, you need to enter www.facebook.com and visit their website to create an account. Once you have arrived at this page, you will see a "Sign Up" area where you can enter the information.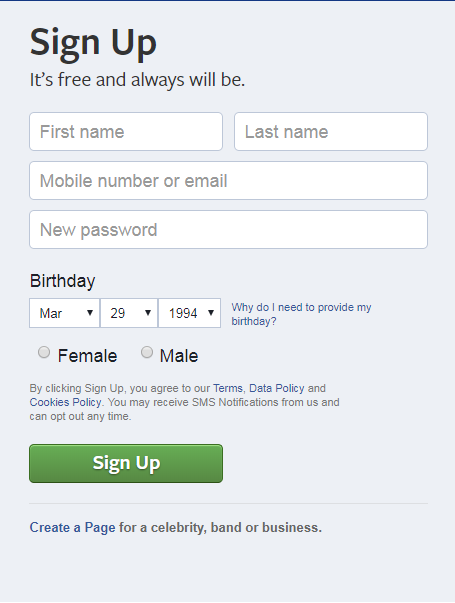 Once you input your information to Facebook, you will be sent a code through your email. Open the email, retrieve the code, copy, paste, and voila! You are now a Facebook user. Add a user picture and make your page an accurate representation of yourself. Once you have finished, go to the search window on the top of the screen and type in the business you would like to review.

Click on Serenity at Summit, and when you are directed to their home page, select reviews, which will be under the "home" text on the left-hand side.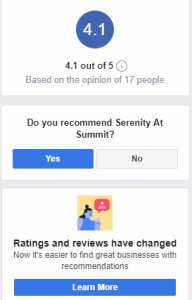 When this window pops up, click yes, and another window will prompt where you can write the review.
Once you have completed the review, click on "Post." You have now successfully written your first Facebook review. Keep them coming!
Google Reviews
Google reviews are highly effective and will be seen by a vast audience. To begin the process, you need to open your browser and type in www.google.com. Once the page appears, type the business into your search bar. Once you complete this step, you will be met with several links, but the company you type in specifically will show up on the right side of your screen.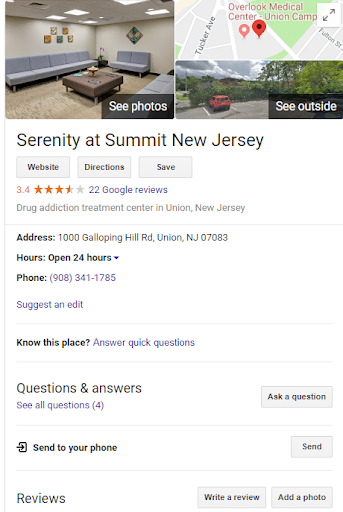 The next step is to review – if you do not have a Google account, you will be required to create one when you select "Write a Review." Following that click, you will select "Create Account." When you click on this, select "For Myself." The next step will require you input your information and create a username, and then click "Next." After your email is confirmed, you will be redirected to the first screen. Please select "Write Review," and this screen will appear.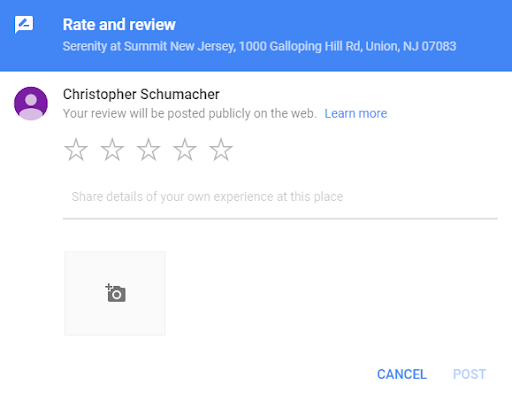 Prior to writing the review, please select the number of stars that best describes your experience. You will then leave the review. Once you are done, click post.
You have now demonstrated that you can master reviews across the various social media channels. One thing to keep in mind, though, is that you must be honest and constructive when leaving these reviews. Stay on topic, and do not use swear words when formulating your opinion. Stay on the topic of subjects such as customer service and how you think the business can improve for its consumers.
Additionally, please, leave out links and personal information such as the names of people who may have helped you. If the business fulfills your wishes, please update the review as needed. We hope you learned something from this – happy posting!