Substance abuse remains a major health care concern in the United States. The Substance Abuse and Mental Health Services Administration (SAMHSA) releases yearly estimates regarding the use, misuse, and potential abuse of numerous drugs and alcohol. The 2017 National Survey on Drug Use and Health (NSDUH) released by SAMHSA revealed that the prevalence of drug abuse in the country is relatively stable compared to past years.
About 20 to 21 million people older than age 12 had a diagnosable substance use disorder.
Tobacco products and alcohol remain the most widely abused substances in the United States.
Nearly four-fifths of people diagnosed with any type of substance use disorder struggled with some form of alcohol abuse.
A significant number of people who struggle with substance abuse also suffered from some other co-occurring mental disorder (nearly 8 million individuals).
Treatment Success
Treatment interventions for substance abuse can be incredibly effective. The treatment of addictive behaviors helps people to address the issues associated with their substance abuse.
Any form of substance use disorder is typically a relapsing condition that resembles other types of chronic medical conditions that have a similar behavioral component to them. This means these are not conditions that are caught or contracted in the form of infection, but the result of the person's lifestyle interacting with other inherent factors.
The National Institute on Drug Abuse (NIDA) illustrates this similarity by comparing the rates of relapse in substance use disorders with rates of relapse in individuals who are diagnosed with hypertension, diabetes, or asthma, which are also chronic medical conditions that have a significant behavioral component to them.
According To The Data Provided By NIDA:
The percentage of individuals with hypertension who relapse ranges between 50 and 70 percent.
The percentage of individuals diagnosed with diabetes who relapse ranges between 30 and 50 percent.
The percentage of individuals who are diagnosed with asthma and experience a relapse ranges between 50 and 70 percent.
The percentage of individuals who are diagnosed with some type of substance use disorder and experience a relapse ranges between 40 and 60 percent.
The rates of treatment success for individuals diagnosed with asthma, hypertension, and diabetes are considered to be positive, whereas many sources often cite the failure of the treatment for individuals diagnosed with substance use disorders as a major concern despite the very similar rates of relapse among these groups. This misperception is based on how relapse is viewed in the addiction treatment industry compared to relapse in other very similar types of disorders.
What Is A Relapse?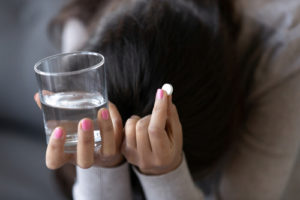 Historically, any type of slip for someone with a substance abuse issue was considered to be a failure of treatment, but this view shifted, beginning in the 1980s.  A relapse occurs when a person in treatment or who is abstinent following treatment returns to a manner of behavior that would result in them being diagnosed as having as an active substance use disorder again.
Relapses are clinically differentiated from lapses in that lapses occur when the individual has a minor slip and can self-correct the slip. A relapse requires an additional formal treatment intervention to assist the individual.
Organizations such as NIDA and SAMHSA have pointed out that when relapses occur in other types of similar conditions, like the ones listed above, they are considered to be part of the recovery process. Individuals who relapse need additional intervention, education, and support for them to be successfully treated. Relapses in these alternative conditions are not considered to be failures of treatment. Conversely, lapses or relapses that occur in individuals with substance abuse issues have traditionally been considered to be treatment failures, leading to the false impression that addiction treatment is not successful.
Treatment Success Rates
The notion that an addiction can be cured is not valid. Individuals who are successful in treatment will very often continue their involvement in some form of treatment for many years following their initial abstinence.
The actual figure of the number of individuals who attain some form of treatment success is hard to determine because there is no specific identified period of abstinence that can be objectively determined to define of a successful treatment outcome. Different studies rely on different periods of abstinence when determining the overall success of a particular form of intervention.
Nonetheless, according to sources such as the American Society of Addiction Medicine, individuals who maintain abstinence and are still involved in a recovery program for a period of five to seven years have a decreased probability of relapse. This suggests that between 50 and 70 percent of those meeting this condition are recovered, consistent with the recovery rates for the other conditions listed above.
The Components Of Successful Treatment Program
An important consideration is to choose a treatment program that offers the components associated with successful recovery.
NIDA Lists The Components Of A Successful Recovery Treatment Program As:
An initial comprehensive assessment that includes an assessment of physical functioning, emotional functioning, and the person's social situation.
Implementation of a medical detox program when necessary.
The development of a formal treatment plan that is flexible and based on interventions that are supported by research.
The use of other medication-assisted treatments when deemed appropriate.
The ongoing use of behavioral interventions as the core component of treatment (therapy, support or peer group participation, family support, and other nonmedical interventions).
Addressing co-occurring conditions along with the individual's substance abuse.
Family involvement.
Ensuring that the person is held accountable for their behavior.
Continued participation in treatment.
Voluntary admission to treatment is not necessary for an individual to recover from a substance use disorder; however, at some point, the individual has to accept their responsibility for participating in treatment and become motivated to improve their situation. Individuals who are seeking treatment for any type of substance use disorder should look for programs that minimally offer all of the above-listed factors.